Michelle Williams made sure the focus was on her Golden Globes date, the #MeToo movement founder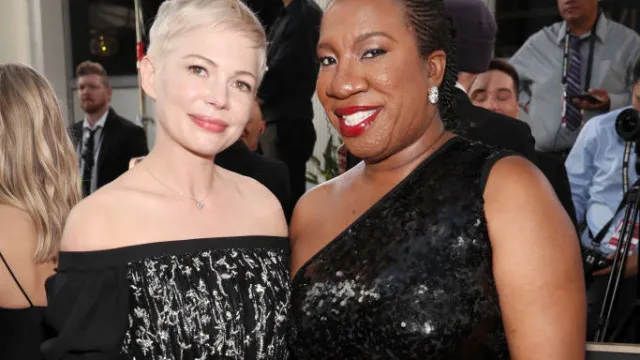 The 2018 Golden Globes is all about the women — and they are definitely taking this opportunity to make a big statement on the red carpet. Thus far, one of the most significant moments on the red carpet is Michelle Williams' Golden Globes date. Michelle walked the carpet with Tarana Burke — a women's right activist who founded the #MeToo movement — by her side. Burke is also the senior director of the nonprofit Girls for Gender Equity.
Michelle didn't just bring Tarana as her date — she made sure the focus was on her the whole time. During her red carpet interview with E!'s Ryan Seacret, Michelle didn't waste any time bringing the attention to Tarana, saying, "We're here because of Tarana. You might think that we're here because I was nominated for something, but that's really not the case."
She then turned the interview towards Tarana, who, when asked how she felt about being there, said,
"It's deeply humbling. This is something that I started out of necessity and something that I thought that my community needed, and it's grown over the years, but I never could envision it growing like this. But this movement is so powerful because we're seeing a collision of two worlds — well, collision probably isn't the best word - a collaboration between these two worlds that people don't usually put together, and would most likely have us pinned against each other."
Even when Ryan tried to congratulate Michelle on her work, she turned the conversation back to focus on Tarana, stating, "Thank you, I appreciate it, but really the most exciting thing is that I thought that I would have to raise my daughter to learn how to protect herself in a dangerous world, and I think because of the work Tarana has done and the work that I'm learning how to do, we actually have the opportunity to hand our children a different world. So I'm moved beyond measure to be standing next to this woman. I have tears in my eyes and a smile on my face."
Michelle was also one of many celebs on the red carpet who wore black as a sign of the protest. Her ensemble, as well as her decision to focus on Tarana instead of her work as an actress, is truly an awesome way for such a huge star to bring attention to such an important issue.