Michelle Williams of Destiny's Child just released her first pop single since leaving the group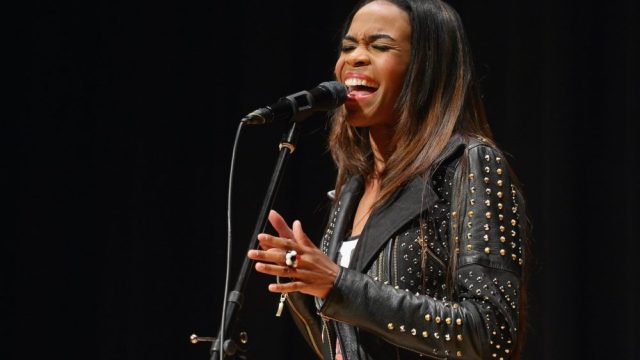 Michelle Williams of Destiny's Child fame has been laying low in the pop music world in recent years. She released a powerful contemporary gospel album, Journey to Freedom, in 2014, and has also made forays into acting—but as of today, December 7th, Williams is officially back in the pop music realm, releasing her first mainstream song since 2006.
In the single, called "Fearless," Williams sings about not letting her fears hold her back from doing amazing things. Williams has been open about her struggle with depression and has been a long-time advocate for mental health awareness. "Fearless" is an anthem for people, who, like Williams, struggle with self-doubt and anxiety. Back in July 2018, Williams reportedly checked herself into a mental health facility outside of Los Angeles. Before entering treatment, she shared a candid post to her Instagram.
"For years I have dedicated myself to increasing awareness of mental health and empowering people to recognize when it's time to seek help, support and guidance from those that love and care for your wellbeing," Williams wrote. "I recently listened to the same advice I have given to thousands around the world and sought help from a great team of healthcare professionals."
And in a recent post, Williams took a moment to unpack the concept of fear with her fans.
https://www.instagram.com/p/Bq5xaImA6W2
Listen to Williams' empowering new pop single below:
https://www.youtube.com/watch?v=EfF8TooK2h4?start=3&feature=oembed
Williams also talked about being "fearless" in a December 7th announcement that she and her fiancé, Chad Johnson, have broken up. She posted the news to her Instagram Story, writing, "I still remain fearless. I guess I still remain single! Things didn't work out. The healing that needs to take place is a must! I don't wanna destroy another relationship. Blessings to him, his family and ministry. #FEARLESS".
https://www.instagram.com/p/Bp5IyXIADjq
Williams is currently playing Erzulie, the goddess of love, in the Broadway production of Once On This Island, and you can get tickets here. You can also see her and her fiancé in the reality series Chad Loves Michelle: A Real Look at Relationships on OWN.