Michelle Rodriguez opens up about how Paul Walker's death affected the "Fast and Furious" franchise, and our hearts hurt
Sometimes we still forget that actor Paul Walker isn't with us any more. His extremely tragic and sudden death in 2013 felt so unreal, that it's still kind of hard to wrap our heads around. But if there's one thing we know for sure, it's that his loss could not have been easy for his The Fast and the Furious costars. They had been friends and colleagues for years.
And in a recent interview with People/EW, Michelle Rodriquez opened up about what the loss really meant for their team and the franchise as a whole.
"Paul's the heart of it, he's the guy who really loved the genre, he loved that lifestyle. And not having that love affair with cars and that lifestyle, it removed a certain aspect of the soul of the franchise and it hurts all of us and we all know it."
And while this breaks our hearts to hear, we were also SO INSPIRED by Rodriguez's explanation for why she and her fellow costars continue to make Fast and Furious movies, despite it being forever changed.
"We're living in a realm where there aren't any franchises outside of hero movies and sci-fi that actually address the lack of multiculturalism," she said. "At that scale you don't see a $150 million budgeted film with a Latin person, a black person, an Asian person."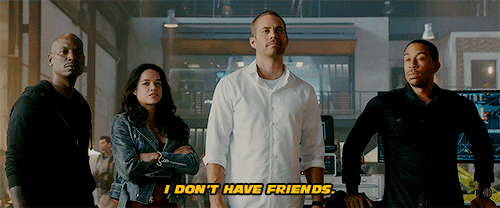 She concluded by saying,
"If we're not willing to do it for ourselves, and we're not just willing to do it for the money, then we need another reason – and that's our reason ... we're filling a gap in the market that nobody else is filling."
Let's take a moment to absorb how incredible that is, and how amazing it is that the actors of this franchise take the responsibility so seriously.
We're glad something positive continues to come out of the Fast movies, even though we'll always miss our ride or die Paul Walker, forever and always.