The internet can't stop talking about Michelle Obama's speech at her portrait unveiling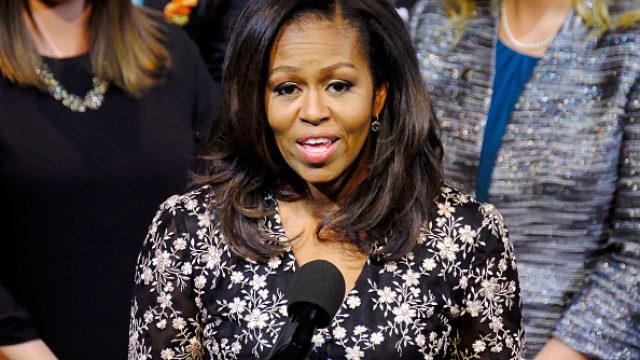 Former President Barack and First Lady Michelle Obama may have left the White House, but their legacy has not been forgotten. Even since their return to civilian life, the Obamas have continued to speak out about issues like systemic racism and sexism. And now, Michelle Obama's speech at the unveiling of her official portrait has continued the former first lady's legacy.
On February 12th, Barack and Michelle Obama's official portraits were revealed at the Smithsonian's National Portrait Gallery. The former president and first lady both chose black artists to depict them, a first for any president's official portrait. Barack chose Yale-educated painter Kehinde Wiley, famous for painting black subjects in the style of old European royal portraits. Michelle, on the other hand, opted for a work by Baltimore artist Amy Sherald, who is known for portraying themes of social justice and who famously paints her subjects with gray skin tones.
Both paintings are stunning, but Michelle's speech is what made the event so memorable.
After revealing the portrait, Mrs. Obama said that she felt overwhelmed to be honored by a portrait in the Smithsonian's gallery. In a powerful speech, she addressed her mom and thanked her family members for their hard work. She also addressed the next generation.
"I'm also thinking of all the young people, particularly girls and girls of color, who...will see an image of someone who looks like them hanging on the wall in this great American institution," she told the crowd. "I know the impact that will have on their lives, because I was one of those girls."
She also spoke about the strides America has made toward racial equality, while noting that the country still has a long way to go. And Michelle praised Sherald's work, noting that she had a bond with the painter from their first meeting.
https://twitter.com/udfredirect/status/963075489559646208
https://www.youtube.com/watch?v=YEy6Xfg07fo?feature=oembed
The former first lady's speech resonated with Twitter users.
Director Ava DuVernay tweeted that the Obamas' portraits filled her with hope.
Her speech even led some to wish that the Obamas could return to the White House.
false
https://twitter.com/udfredirect/status/963072361519112192
https://twitter.com/udfredirect/status/963072680751644678
https://twitter.com/udfredirect/status/963071788782641158
From her viral "Turnip for What" video to her Let Girls Learn initiative, Michelle's pop culture moments and policies alike made her a remarkable and relatable first lady. Her latest speech is just one more reminder of the reasons we admire her. Congratulations to the Obamas and to the artists who created their gorgeous portraits.