Michelle Obama's advice to high school seniors is so inspiring
When the Obamas took an incredibly well-deserved vacation, I was happy for them and all — but that didn't stop me from counting the days until they returned to public life. Thankfully, they're now back in action and Michelle Obama's recent advice to high school students is so inspiring — and we should all listen up, regardless of our ages.
She emphasized the importance of finding a community when they arrive on campus.
"Don't sit in your room alone. Do not stew or stir," Obama told the audience. "Go out and build your base of support… You cannot do this alone. I didn't. No one on this stage did, and we are not expecting that from you."
The event was emceed by Nick Cannon, and celebs including Ashley Graham and Bella Hadid were on hand to show their support for the students.
"Once you find that community — and you have to find your community in college, and it may take some time — you're gonna get this thing. You're gonna soar, and you're gonna continue to make us proud," the former first lady continued.
Education was a major priority for Obama while her husband was in office, and that's not going to change.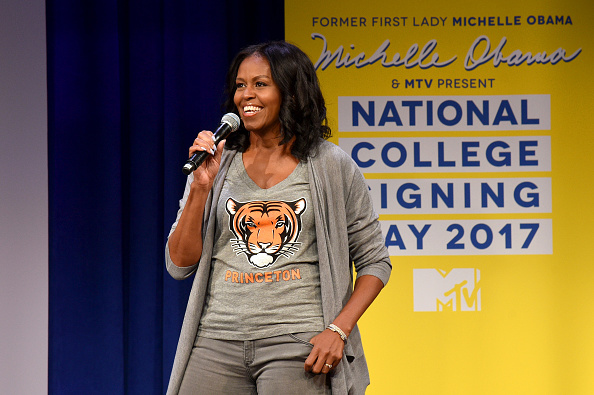 "The number of acceptance letters that you get should be more important than the number of followers you have on social media," Obama said. "That's the kind of goal we need to be setting. That's the bar we want you to reach."
They may be private citizens, but both Barack and Michelle Obama will continue to make a difference in millions of lives.
Last month, Barack Obama addressed students in Chicago and encouraged them to become the next generation of changemakers. Michelle voiced similar sentiments during yesterday's event.
"My presence here today is no accident, because I might not live in the White House any more, but Barack and I are gonna keep on celebrating you all, and supporting you, and lifting you up, no matter what house we live in," she stated. "Our belief in the power of education to transform your lives is real and it's gonna be at the core of everything we do going forward."
They're no longer in the White House (*sob*), but we can count on both Michelle and Barack Obama to continue fighting for all Americans.