Michelle Obama paid a surprise visit to some female students for International Women's Day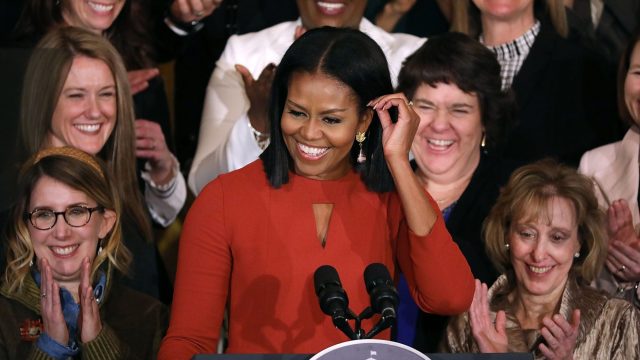 Just when we thought we had gotten over the grief of the Obamas leaving the White House, Michelle Obama has stepped up on International Women's Day to show she's still very much in our lives. And we couldn't be happier! Earlier today, Michelle Obama made a surprise appearance at Francis L. Cardozo Education Campus, a combined middle and high school in Washington, D.C.
Michelle posted on her Snapchat this morning that she was going to pay a visit: "We're celebrating International Women's Day with a group of amazing young women. We're going to talk about education — the importance of it in their lives and in mine." The former First Lady walked into Cardozo unannounced, and the students could barely contain their excitement. She sat down in a circle of 12 of them, all of them young women, and chatted together for a little while. We wish we could've been there.
Shortly after, Michelle shared her experience on Instagram, saying how great it was to celebrate "the beauty and diversity of our country on this #InternationalWomensDay with some of the many fierce and promising girls here at DC's Cardozo Education Campus." She went on to write about what a beautiful example of diversity this school represents for our country.
"By embracing young immigrants and their diverse cultures and contributions, Cardozo is a model for our entire country. The girls I met with today are ready to take on the world," Michelle wrote.
Preach, Michelle! Just in case her message didn't get across to everyone on Instagram, she shared her visit on Twitter as well.
She wrote that she was "impressed by the extraordinary girls" she met, and in the picture you can see that the girls are in tears because they were so moved by her visit. What a life-changing experience for them.
Michelle is seriously the coolest First Lady ever, and even though she's not in the White House anymore, she's proving to the world that she's not going anywhere. She'll always be here to lift up America when we need it most — and remind us what's really worth celebrating in our country.