Michelle Obama got trolled by her mom in a post-Grammys text exchange, and this is too relatable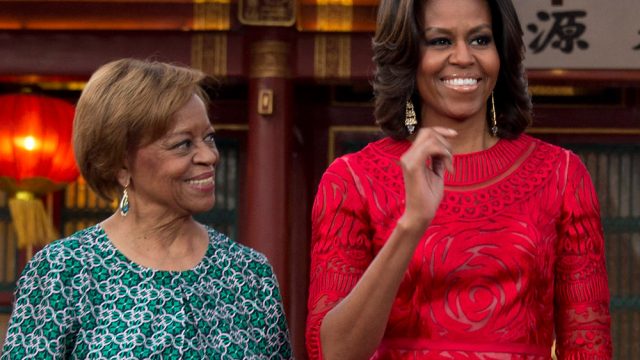 On February 10th, 2019, Michelle Obama made a surprise appearance at the 2019 Grammy Awards. The former first lady stood onstage with Lady Gaga, Jada Pinkett Smith, Jennifer Lopez, and Alicia Keys to kick off the awards show with powerful, feminist messaging. The crowd loved it, we loved it, but Mrs. Obama's mom—Marian Shields Robinson—was only vaguely amused by it.
During a tour stop in Phoenix on February 12th, 2019, Michelle told the audience that her mother took two whole days to text her about her Grammys appearance. On Tuesday, Marian finally texted Michelle to say "I guess you were a hit at the Grammys," which is like, mom savagery 101. Marian then went on to ask her daughter if she met "any of the real stars" at the show and omigod, did Michelle just get trolled by her own mother?
https://twitter.com/udfredirect/status/1095537969589448706
Michelle wrote her back, saying that this exchange is "so typically you" and punctuated the thread with "And I am a real star…by the way." Michelle later shared screengrabs of the texts on Instagram, captioning it, "When your mom doesn't think you're a 'real' celebrity."
Our other favorite moment was when Michelle reminded her mom that she had told her she was going to present at the Grammys and her mom simply wrote back, "No you did not. I would have remembered that even though I don't remember much."
So next time your mom trolls you online, as moms are wont to do, just remember that even the great Michelle Obama gets shit from her mom.