Michelle Obama surprised us at the 2019 Grammys with an empowering speech about music and representation
Viewers of the 2019 Grammys were blessed with a moving surprise appearance from none other than our forever FLOTUS, Michelle Obama, as she opened up the ceremony in Los Angeles alongside host Alicia Keys, nominee (and already the winner of three Grammys tonight) Lady Gaga, performer Jennifer Lopez, and presenter Jada Pinkett Smith. Walking down the backlit stage steps hand in hand to uproarious applause, each woman took a moment to explain how music guided them through their youths and continues to inspire them when society tries to deny their power.
Hearing Obama's words about representation in art—and why it matters—was simultaneously motivational and cathartic as we begin to consider the 2020 election and what the potential reelection of Donald Trump means for our futures.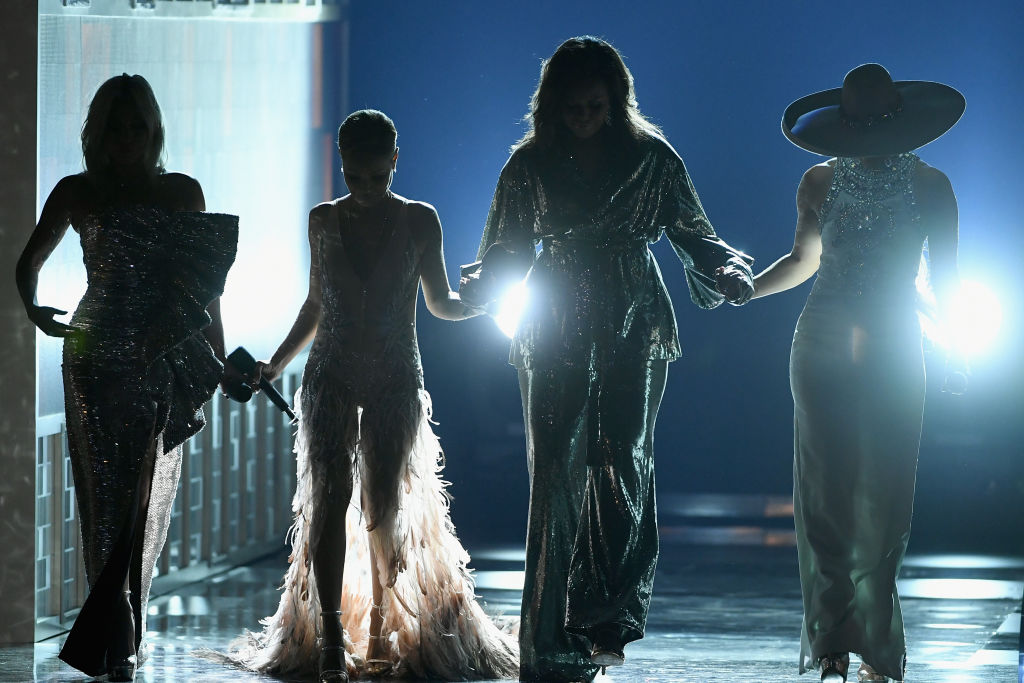 Gaga spoke first, addressing the rejection she faced at the start of her career: "They said I was weird…that my sound, that my look wouldn't work…But music told me not to listen to them." Jennifer Lopez, who is performing in tonight's Motown tribute, added, "Back in the Bronx, music gave me a reason to dance…[now] it reminds me where I come from, but it also reminds me of all the places that I can go. Music is the only place we can all feel truly free."
After Jada Pinkett Smith connected music to underrepresented voices—"Every voice we hear deserves to be honored and respected"—Michelle Obama took to the mic to describe being a little girl with a record player on the south side of Chicago.
Repeating herself over the audience's ecstatic applause, Obama said, "From the Motown records I wore out on the South Side, to the 'Who Run The World' songs that fueled me through this last decade, music has always helped me tell my story...Music helps us share ourselves, our dignities and sorrows, our hopes and joys. It allows us to hear one another...Music shows us that all of it matters—every story within every voice, every note within every song.
Michelle Obama always shows up right when we need her (oft in a sparkling ensemble, because why not?) to remind us of our power, and we thank her.