Michelle Obama said all the things she "couldn't say as first lady" on Kimmel last night, and LOL forever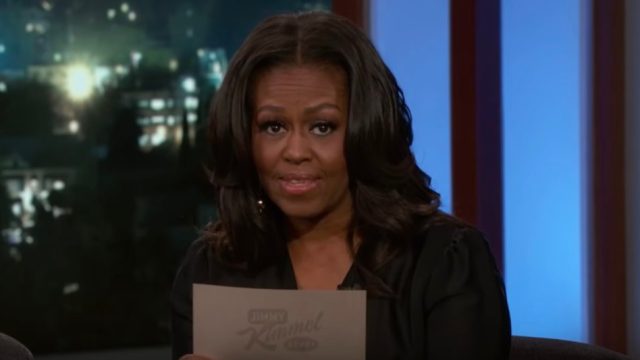 Michelle Obama is known for her eloquence and poise, so it's hard to imagine the former first lady saying anything shocking or scandalous. Fortunately for all of us, Jimmy Kimmel decided to change that. On the November 15th episode of Jimmy Kimmel Live!, the host pointed out that Obama can "cut loose and really say anything" now that she no longer lives in the White House. And to help her along, he wrote a number of outrageous cards for the Becoming author to read out loud.
Some of the amazing statements include, "I've never eaten a vegetable," and "All eight years at the White House I used Laura Bush's Netflix password."
"Laura, sorry," Michelle deadpanned. "Send me the bill."
While these "admissions" were definitely not true, they did lead to some real-life anecdotes—like that Sasha and Malia get annoyed when their mom mixes their names up. Michelle even revealed that Sasha even calls her "Michelle Obama" instead of "mom" to get her attention in a crowd.
Watch the hilarious video (and continue to miss our former first lady) below:
https://www.youtube.com/watch?v=T_-3Vbr625g?feature=oembed
Thanks, Jimmy. We needed this.