Michelle Obama shared the most heartwarming Father's Day message for Barack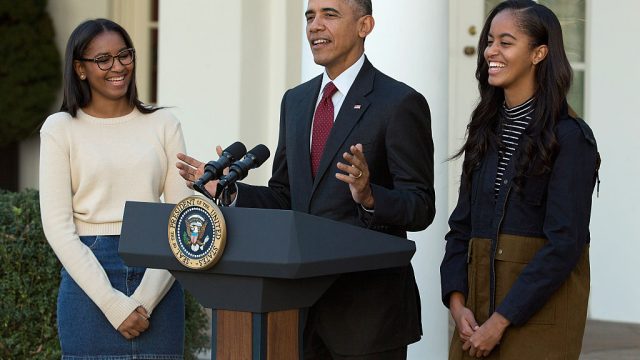 Admit it. You've fantasized about what it must be like to be Barack and Michelle Obama's children. It's okay. Us, too! Mama and Papa Obama are smart. They're accomplished. They know how to dress — and dance! And while we imagine it would tough as all hell to put anything past them, they more than make up for it in their heartfelt expressions of love and affection for each other and their daughters. Which is why when Michelle shared a heartwarming Father's Day message on Instagram for Barack, we melted into little puddles of 100% pure love — and started researching "adult-child adoption" online. (Please be a thing!)
Posting a vintage pic of Barack and the couple's daughters, Sasha and Malia, Michelle wrote, "Happy #FathersDay @BarackObama. Our daughters may be older and taller now, but they'll always be your little girls. We love you.‬"
Heart. Bursting.
We're not the only ones feeling the love. The Instagram-ed image has already received over 1 million likes and countless comments of support from fans of the former First Family. One wrote,"HAPPY FATHER'S DAY, MR. OBAMA!!!! #wemissyourfamily." Another commented, "Happy Father's Day to the best man, father, and President of the United States."
We feel you AND all the feels.
But Barack wouldn't be Barack without wearing his heart on his sleeve for all to see and tweeting out an equally adorable message about what his family means to him.
Awww, Dad! We mean, er…Mr. President!
Sasha and Malia, you got a good one there! Happy Father's Day, Barack!