Michelle Obama revealed the one vegetable she really doesn't like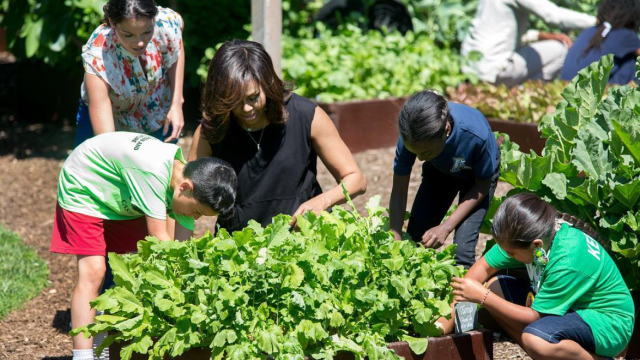 Our favorite former FLOTUS has been an advocate for healthy eating since she moved into the White House and planted a vegetable garden, but it turns out there's one vegetable that Michelle Obama really doesn't like, and it's actually not a huge surprise. Before he was inaugurated, President Obama created a stir when he spoke ill of the same vegetable that his wife avoids. Yes, Barack and Michelle Obama both dislike… beets.
Does this explain why the Obamas are the cutest couple ever? Does liking or disliking beets influencing a couple's compatibility? Should everyone go add their stance on beets to their dating app profile to find a fellow beet hater or lover? Clearly, Michelle's strong opinion is forcing us to ask ourselves a lot of big questions here.
Not only does she hate beets, Michelle also has a theory about why people love or hate the red root.
In 2012, The Washington Post reported that Obama said, "We believe there's a beet gene. You either love beets or you hate 'em, and neither of us have the beet gene."
This wasn't the last time Ms. Obama spoke about her distaste for beets. Just this month, she told Food & Wine,
"I know that I'm known for eating my vegetables, and there really isn't much I don't enjoy. But I'm just not a fan of beets."
Wow, she must really hate the red juicy vegetable.
While there are no beets in the White House garden, there are 55 other vegetables being grown, and that almost makes the Obamas' beet aversion all the more evident because it seems they were being nondiscriminatory when deciding which vegetables they would include in the garden.
With beets, it's personal.
Before you start worrying that Michelle's loathing of beets might cause the vegetable to go extinct due to their lack of endorsement from the coolest family ever, just take heart in knowing that beets are integral to creating a bloody effect in meatless burgers.
There is a place for beets in this world, it's just not anywhere near Michelle Obama's kitchen.