People think Michelle Obama may have gotten a new engagement ring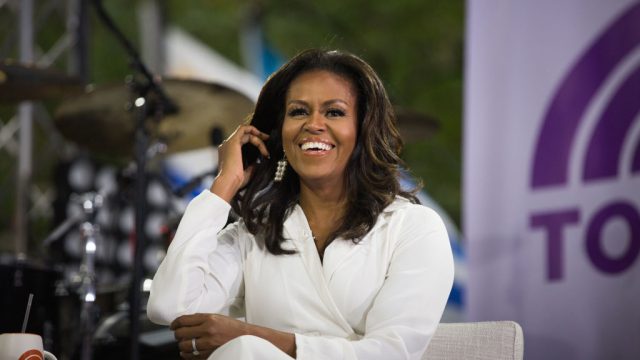 We all know that Michelle and Barack Obama have a love story for the ages, but it seems there's a new accessory in the mix. Michelle Obama has been out in public a lot recently, and some eagle-eyed watchers think she has a new engagement ring, and once you see it, you probably won't be able to stop staring at it.
As Us Weekly pointed out, when Obama visited the Today Show last month in honor of International Day of the Girl, she was sporting a pretty impressive diamond on a certain finger that hadn't been there before. The magazine reported that although Obama is known for her very traditional solitaire engagement ring with a yellow gold band, the last time she was seen wearing it in public was possibly when she left the White House in January 2017.
Obviously, since Obama has yet to confirm or deny whether her former POTUS husband gifted her with a new sparkler for their 25th wedding anniversary, we don't have any exact details on the ring yet. But from the photos that have emerged, it seems to be a large square stone surrounded by plenty of diamonds on the band. And it is beautiful.
Just look at it here. So sparkly.
Although we don't doubt that her original ring holds great sentimental value to her—after all, it had been on her finger since their 1992 wedding—a lot of people upgrade their rings later in life when the finances are there.
Besides, the Obamas have always been ultra-romantic, in and out of the White House, so we wouldn't be surprised at all if this was an anniversary gift (or even a "just because" gift). Being FLOTUS ain't easy, so why not start this next, hopefully less stressful chapter of her life with her hubs and a pretty new ring?