Michelle Obama is writing a memoir, and the title is perfect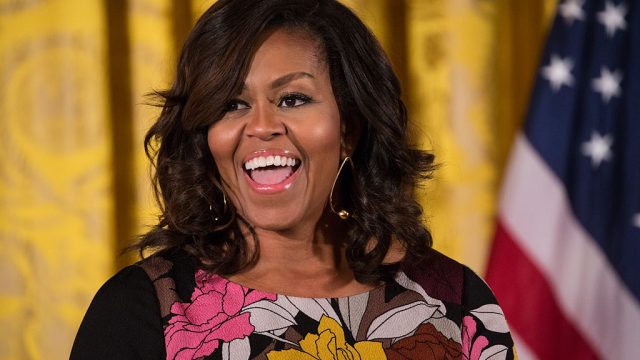 Former First Lady Michelle Obama is one of our idols. Not only is she incredibly intelligent, driven, and strong, but she also exhibits grace and warmth that leave us in awe. Because of this, we are nothing short of thrilled to learn that Michelle Obama is writing a memoir. Even though she feels like one of our BFFs, there is still so much we don't know about her! And we can't wait to read it.
On Sunday, February 25th, not only did Michelle Obama announce that she's publishing a book, but she also shared the book's title. Ready? Her memoir will be called Becoming. Wow. Just perfect. Quite frankly, we're feeling inspired just reading her memoir's description!
"Writing BECOMING has been a deeply personal experience," Michelle Obama shared on Instagram. "It has allowed me, for the very first time, the space to honestly reflect on the unexpected trajectory of my life. In this book, I talk about my roots and how a little girl from the South Side of Chicago found her voice and developed the strength to use it to empower others. I hope my journey inspires readers to find the courage to become whoever they aspire to be. I can't wait to share my story."
Michelle Obama will publish her memoir on November 13th, 2018.
It will give readers an in-depth look at how she became the amazing woman she is today. According to the Becoming website, we'll learn more about her childhood, her professional life before becoming First Lady, and, of course, her tenure in the White House. We're hoping for tons of Barack stories too.
And, of course, Michelle Obama has found an amazing way to use Becoming to give back to the community.
In a wonderfully charitable gesture, the ex-FLOTUS will be donating the first one million copies to First Book, according to the New York Times. First Book is a nonprofit dedicated to providing books and other educational resources to children from low-income families. And to make the book even more available to the masses, it will be published in 24 languages!
And, there will be an audio edition read by Michelle herself! So exciting!
We cannot wait until November 13th. And neither can Ellen DeGeneres.
Congratulations, Michelle!