Little girls gave Michelle Obama some advice and our hearts are bursting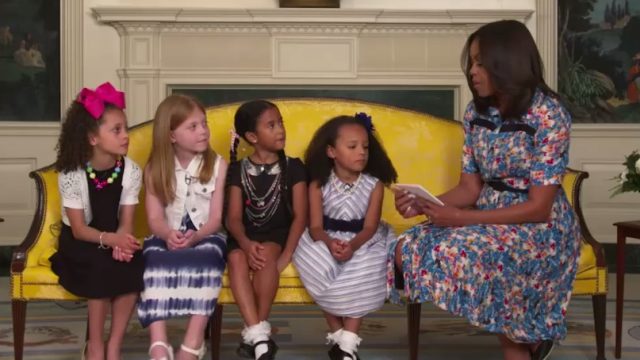 Cosmopolitan recruited four of the cutest little girls on the planet to give Michelle Obama some advice, and the resulting video is our latest obsession.
First of all, FLOTUS is sitting in the Diplomatic Room with these four little ladies, and none of their legs are long enough for their feet to reach the floor. Adorable. Second of all, they discussed some very important topics like what to pack for a trip, why girls should go to school, and what Michelle Obama should do when she leaves the White House. They also showed off their favorite dance moves.
The girls were also just totally charming little girls! At one point, the little girl sitting closest to the first lady starting moving her arms in rapid circles. "I'm just warming up my arms," she said.
All four of the girls also had pretty heartwarming White House exit interviews. "I forgot to tell her to pack pillows and I wanted to tell her," one little girl said about the conversation.
This video is great for so many reasons (cute factor being high on that list), but perhaps the most important reason on this list is because it allowed these little girls the opportunity to think about and discuss why its so important to let girls learn.