Michelle Obama set the record straight once and for all about whether she'll run for office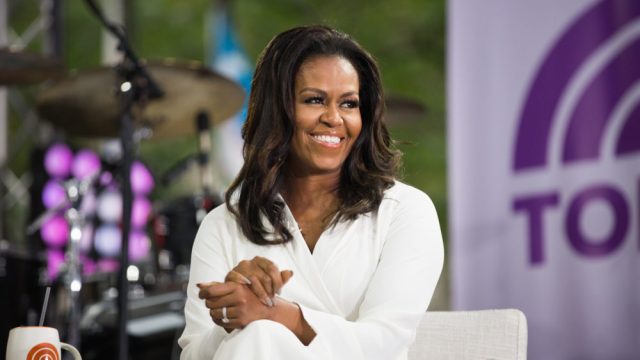 When it comes to people we wish would run for president, Michelle Obama is definitely at the top of the list. The former first lady, who is gearing up to embark on a 10-city book tour for her memoir Becoming, is one of our country's most popular figures. But despite the rumors, Obama has no intentions of ever vying for the role of commander-in-chief, and in a recent interview, she made her position abundantly clear.
On October 11th, Obama appeared on Today in honor of International Day of the Girl. During the show, she announced the Obama Foundation's latest initiative to empower adolescent girls: the Global Girls Alliance. She also talked politics, telling hosts Hoda Kotb and Savannah Guthrie that she is "absolutely not" running for office.
"I have never wanted to be a politician," Obama said on the show. "It's one of those things that nothing has changed in me to make me want to run for elected office. I want to serve, I want to do work, I want to be out there, but there are so many ways to make an impact. Politics is just not my thing."
https://www.youtube.com/watch?v=zxvbO95EYQY?feature=oembed
Obama added that she has already found her passion, saying that she wants to "work on positive issues with girls around the world." She explained that the Global Girls Alliance will support grassroots leaders around the world who are helping to educate the millions of girls who aren't in school.
As much as we love this, we're admittedly still a little bummed she won't be running for office.
However, we can't say we're surprised. Since leaving the White House, Obama has repeatedly insisted that she has no plans to return to the political sphere. In April, at the Simmons Leadership Conference in Boston, the former first lady said she would not be running for president in 2020, noting that in order to run, "you have to want the job."
Ultimately, we respect Obama's decision, and we know she'll make a huge impact in her next (incredibly important) endeavor.