Michelle Obama welcomed spring with an adorable pic of Bo and Sunny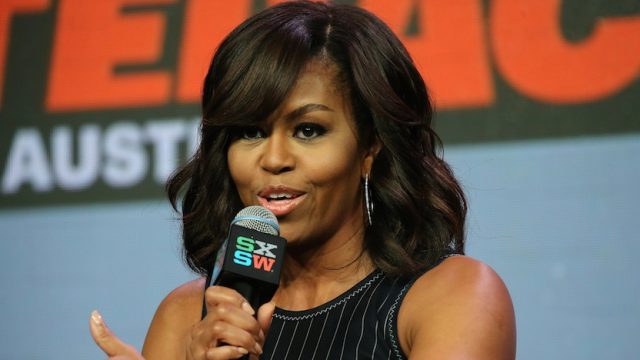 Even though it's still pretty cold in most places throughout the country, spring has officially sprung…and Michelle Obama celebrated the first day of spring in the best way possible.  Mrs. Obama took her dogs Bo and Sunny out for a stroll, and thankfully shared a photo of the adorable pups with her followers.
Though her life is decidedly quieter these days, the former First Lady is obviously not slacking on her commitment to health and wellness, and what better way to celebrate the new season than by getting some much-deserved fresh air?! Mrs. Obama, who has always been our #fitnessgoals, managed to inspire all pet owners to grab their sneakers and a leash and head out the door with this snap.
Bo and Sunny, the Obamas' beloved Portuguese Water Dogs, were a few steps ahead of mom as she encouraged followers to celebrate the first day of spring "by grabbing a friend, heading outside, and getting moving."
Of course, it's sound advice for anyone, even those of us who don't have a Bo and Sunny in our lives (but the adorable fluff balls make her message all the sweeter).
These two are just too cute for words, and while we miss regular glimpses of them in the White House, we're hoping that the Obamas continue to gift us with regular photos of Bo and Sunny to swoon over.
We're hoping the trio enjoyed their first spring walk together, and we're officially inspired to add an outdoor stroll to our day today.