This is the unexpected part of Michelle Obama's new book that Oprah says "cracked me up"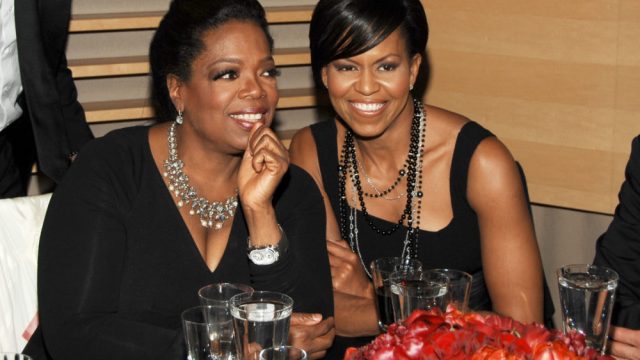 Michelle Obama's new memoir, Becoming, comes out on November 13th, and it reportedly reveals never-before-shared details about the former first lady's life—from her childhood in Chicago all the way to her time in the White House and beyond. Becoming also features details about the Obamas' love story and marriage…a detail of which apparently cracked our favorite human, Oprah Winfrey, up.
Oprah interviewed Obama about the book for Elle, and she called out one specific detail that the former FLOTUS divulged about her husband. The passage begins with Obama recalling a night when she woke up to see her husband "staring at the ceiling."
"He looked vaguely troubled, as if he were pondering something deeply personal," Oprah read from the book. "Was it our relationship? The loss of his father? 'Hey, what are you thinking about over there?' I whispered. He turned to look at me, his smile a little sheepish. 'Oh,' he said, 'I was just thinking about income inequality.'"
Michelle Obama's response to the anecdote? "That's my honey."
We would expect nothing less from a future president.
Of course, like any marriage, the Obamas' isn't perfect, and she revealed that they've undergone marriage counseling to work through their issues.
"[Barack] had this wonderful optimism about time," Obama told Oprah. "He thought there was way more of it than there really was. And he would fill it up constantly. He's a plate spinner—plates on sticks, and it's not exciting unless one's about to fall. So there was work we had to do as a couple. Counseling we had to do to work through this stuff."
The former first lady added that counseling helped her explore "my own sense of happiness" and enabled her to ask for support.
We can't wait to read the rest of Becoming when it hits shelves.