Michelle Obama just announced a 10-city book tour—here's how to get tickets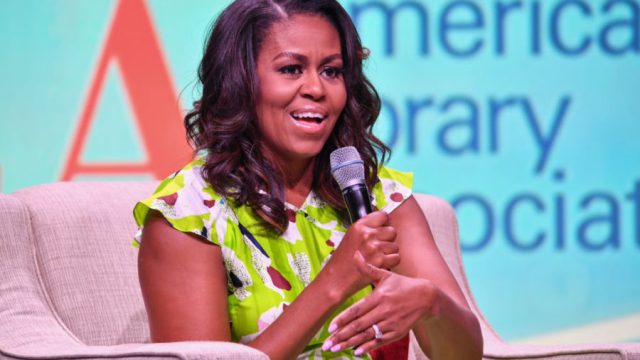 Michelle Obama is coming to a city near you. On September 12th, the former first lady took to her social media channels to announce a 10-city book tour for her upcoming memoir, Becoming. The tour, titled "Becoming: An Intimate Conversation with Michelle Obama," kicks off on Tuesday, November 13th in her hometown of Chicago and concludes on December 17th in Dallas, Texas. Becoming will be released on November 13th in the U.S. and Canada. In the video, Michelle says:
"Over this time that I've been out of the White House, I've had time to think and reflect for the first time in a long time. I spent some time really thinking about the people, the stories, and the experiences that have shaped me and helped me become the person I am today.
She added, "I'm proud because it is candid, it's honest, it is totally and utterly me. So I'm also a little frightened because it is so candid and honest and open."
Along with Chicago, Obama's tour will span Los Angeles, Boston, Philadelphia, Dallas, and more. Two shows each will take place in Washington D.C. and Brooklyn. For the full list of tour locations, visit BecomingMichelleObama.com. In the press release sent to HelloGiggles, Tara Traub, senior vice president of Live Nation Touring, said:
"We are honored to be part of these special events with former First Lady Michelle Obama. Hearing her share her story in person will be a memorable life experience for attendees of the Becoming tour and one that will help encourage people to find their own voice and pursue their dreams for a better future—for themselves, their families, and their communities."
Tickets will go on sale on Friday, September 21st at 10 a.m. local time at BecomingMichelleObama.com. Additionally, registration for pre-sale is open now until Tuesday, September 18th at 10 p.m. EST on Ticketmaster. Limited numbers of VIP meet-and-greet packages will also be available.