Michelle Branch talks to us about her upcoming album — and premieres her dreamy new song, "Fault Line," exclusively on HelloGiggles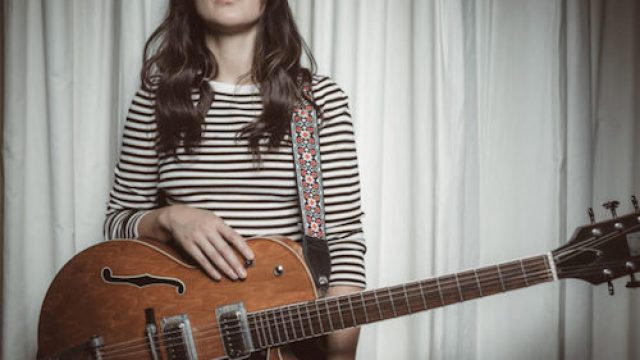 Hold on — you're going to have to give us a minute because we're falling in love with Michelle Branch all over again.
It's been 14 years since her last solo album, but Michelle has been making music the entire time. After her two top-selling albums and Grammy win with Carlos Santana, she started a successful country band, The Wreckers, along with fellow musician Jessica Harp. She also made two albums (one country and one pop) and her record company at the time, Warner Bros., shelved them both. Thankfully, after Warner Bros. let her go, she met Patrick Carney (of The Black Keys) at a Grammys party, joined Verve Records, and kicked off the romantic relationship that would create music magic.
Michelle Branch is going to be everywhere in 2017 — giving us all we wanted (had to get those puns out).
We spoke with Michelle about life, her new album Hopeless Romantic, and her dreamy song "Fault Line" that we're premiering here on HelloGiggles.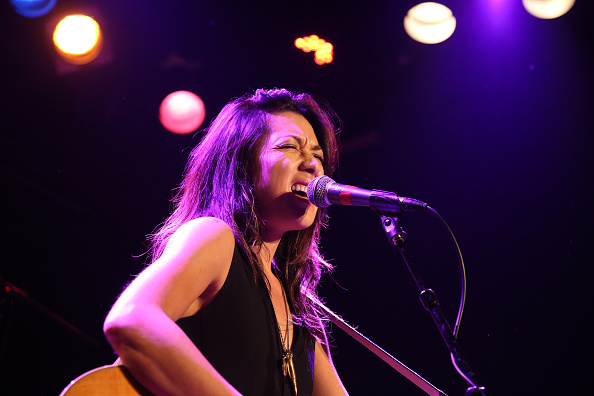 HelloGiggles: In Billboard, you said, "There's such a safety being in a romantic relationship with someone who I work with creatively. You don't edit yourself. Patrick knows what I like, and I know what he's into. There's no bullshit." That must be such an amazing feeling. How does it feel to be back and to fully create a sound and record that represents you?
Michelle Branch: It feels incredible to finally have music out after so long. Gus [Seyffert], Patrick, and I basically went rogue and recorded it ourselves. I've always strived to have every album feel authentically me, and it seems to get easier as I've gotten older and have had more experience making music. It was far less complicated to accomplish without the constraints of a record company breathing down my back, or the pressure to have commercial success looming on the horizon. Knowing Patrick had my back through it all was immensely encouraging.
HG: Was it weird to be creating music about a heartbreak while falling in love?
MB: Is it weird that it wasn't? I think the whole process was incredibly cathartic. By recording these songs, singing them out loud, it was almost as if I was exorcising my demons and laying them to rest. I was making room for something new to take its place.
HG: The Full Frontal with Samantha Bee "Goodbye Ted Cruz" segment was insanely amazing. How did that collaboration come about?
MB: The amazing writers at Samantha Bee rewrote "Goodbye To You" and pitched it to me with the new lyrics. I thought it was so hilarious. I had to do it. I really love her show. It was hard to keep a straight face while singing it.
https://www.youtube.com/watch?v=9V0pumxenJo?feature=oembed
HG: Going along with Sam Bee — I saw that you participated in the Women's March and you've been outspoken about your political views. In this political environment, how important do you think it is for an artist to use their voice?
MB: I think it's incredibly important, not only as an artist, but as the mother of an 11-year-old girl. Artists have the power to inspire and help push things forward. There's an incredible Nina Simone quote that sums it up perfectly, "You can't help it. An artist's duty, as far as I'm concerned, is to reflect the times."
HG: You've had your music featured in a bunch of movies and TV shows (most recently, a beautiful cover of Radiohead's "Creep" for the show Stalker) — are there any movies/TV shows that you'd love to see a Hopeless Romantic song in?
MB: When I binge-watch, it's basically all period costume dramas, anything dealing with the supernatural, and food documentaries. Hopeless Romantic could be in a vampire movie/show — "You're gonna eat me alive," ha! It's about dangerous love. I'm also really loving the music on Big Little Lies.
HG: I'm loving "Fault Line" and all the dreamy rock vibes, and I'm SO excited to premiere it. Want to talk about the song, the writing process, and what it means to you?
MB: Thank you! I am too. It's one of my favorites. For me, the song is really about that point in a relationship where you know it's past the point of fixing. It's beyond repair and you're watching it unravel before your eyes. You enter with the best intentions, but no matter how hard you try or care about one another, somehow you still hurt each other.
HG: Anything else you want to tell HelloGiggles readers?
MB: Come see me on tour this summer! I'm heading out on the road in July/August here in the U.S. and I'm so excited to be playing shows again. We've dusted off the old songs and reworked them a bit. Hearing them live alongside the new material has been really fun. Also, I designed a capsule jewelry collection for Iconery inspired by the songs off this album. Check it out.
And now, here is Michelle Branch's new song, "Fault Line."
We cannot wait for Hopeless Romantic to come out on April 7th! Pre-order the record on Amazon or iTunes, and put "Fault Line" on repeat.