Michael Phelps' wedding photos are *FINALLY* here and OMG the secret ceremony looked amazing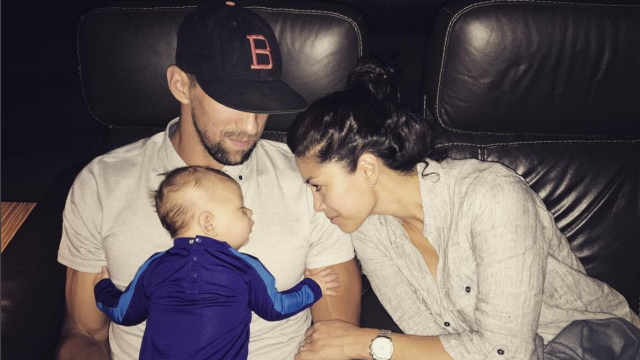 Apparently, Michael Phelps' secret wedding was amazing and now we finally have the photos to prove it! The June 13th ceremony was held in Paradise Valley, Arizona, as confirmed by a marriage certificate obtained by People magazine and OMG, what an incredible day! Officiated by agent and friend Peter Carlisle, the news became officially official four days after hearing of the super secret event when Phelps' wife, Nicole, changed her last name on Instagram to "Mrs. Nicole Phelps."
Phelps proposed way back in February 2015, and shortly after, he and Nicole welcomed their baby, Boomer. Though, looking back to previous interviews surrounding the Rio Olympics, the Phelps fam kept a pretty good poker face when asked about a wedding date saying, "I really can't wait to get married. It will be a small destination wedding later this year. It's the next big milestone I'm looking forward to."
We've got to hand it to him—he had us all convinced! Here are just a couple of the couple's gorgeous wedding day pictures.
"Truly the happiest day of my life @m_phelps00 thank you @boonestudios for capturing this day 😘"
They really do look happy, don't they? Swoon!
"My best friend.... I love you!!"
It doesn't get any sweeter than this #latergram! But why keep us waiting all this time?! In other Insta pics, it's easy to see why the two are together, even cooking as a pair.
"Time for a cook off!! @nicole.m.johnson has chicken and I get to make fish! #datenight @arschmitty is the 3rd wheel 😁🙈@blueapron"
What Phelps family would be complete without an outing to the movies (even if baby Boomer sleeps through it)?
just watched #kubothemovie in 3D with the fam! What a perfect night! You gotta go check it out!
Regardless of when Michael and Nicole got hitched, we wish the couple all the happiness in the world!