Michael Phelps gave baby Boomer the most adorable swim lesson of all time
If your last name is Phelps, people are probably going to assume you can swim ridiculously fast. And Boomer Phelps is pretty lucky, because at 7-months-old he's already receiving masterful swimming lessons from his dad!
Lucky for us, Michael Phelps shared adorable footage of Baby Boomer learning to swim at the same aquatic center in Baltimore where he used to train. And Boomer is being taught by the trainer who taught Phelps to swim when he was 6-years-old. Awww.
By the looks of things, Boomer was a teensy bit apprehensive (not surprising, huge bodies of water can be overwhelming to tiny babies!). Here he is clinging to trainer Cathy Bennett. It pretty much made us melt.
"He's been crying. He put his face in the water and he didn't really like that too much," Phelps admitted.
It's all okay though, because Boomer got to have a sing-a-long in the water with other parents and kids! In one of his Facebook Live videos, Phelps talked about the optimal time for kids to start swimming. We appreciate the quick tip!
"I think earlier the better for swim lessons. I think 6 months is probably the minimum."
We're sure that Boomer will be swimming in no time! All it takes is a bit of getting used to. Oh, and this is the cutest thing we've ever seen. The little guy was thinking, "enough training for now. Cuddle with daddy." And we don't blame him!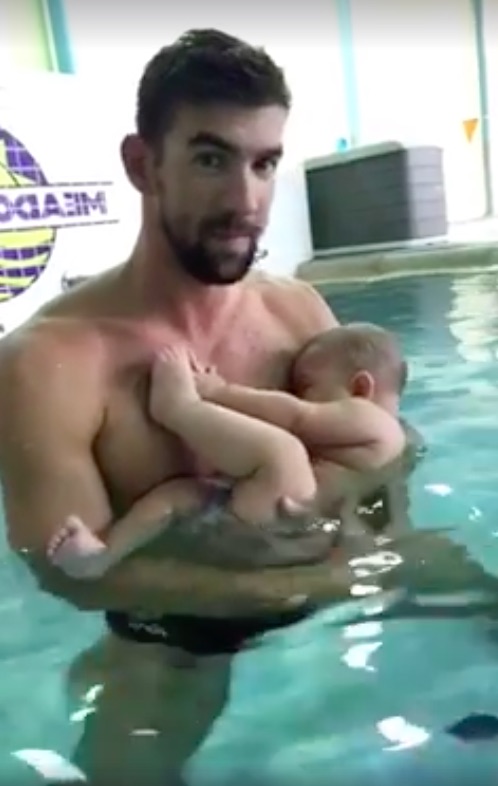 Is he really taking a nap in daddy's arms? OMG…so precious.
Yeah, there's no such thing as perfect…but look at this father-son team. Are they not absolutely perfect in every way?
You can do it boomer!
H/T: Us Weekly