Michael Gambon, AKA Dumbledore, is begging for a role in "Fantastic Beasts"
Another day, another amazing headline about the Fantastic Beasts and Where to Find Them movie. Last week, Harry Potter actor Matthew Lewis (aka Neville Longbottom) visited the set and gave the film his blessing. A few days ago, we read that the project was originally going to be a documentary. Now, Harry Potter actor Michael Gambon (AKA Albus Dumbledore) says he wants in. And he's found a pretty smart way to make it happen.
"I want to be in it, yes," he told Express.co.uk of Fantastic Beasts while promoting his new movie Dad's Army. "They've got a Dumbledore. They'll have a young Dumbledore, won't they? But I could be his dad. They could flashback to me."
As fans, we don't know much about Fantastic Beasts yet. It's different than Harry Potter, where we had a certain level of expectations for actors and important story moments. We held those films to a very high standard, because we so loved the books. But with Fantastic Beasts, we don't quite know what (or who) to expect yet. Maybe there is room for Dumbledore's dad!
Just look at Michael Gambon. He's obviously a ton of fun to work with.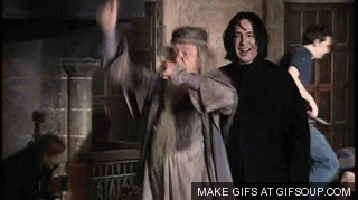 Michael also spoke about the recent loss of his friend, actor Alan Rickman, who portrayed Professor Snape. The two worked together on six of the eight Potter films (actor Richard Harris played Dumbledore in Sorcerer's Stone and Chamber of Secrets, but passed away in 2002).
"Ah Alan, my friend, my close friend… It's very upsetting he's not here," Sir Gambon said. "I was in Harry Potter with him for years and it's awful. Alan was such a lovely bloke, a complete actor and helpful with everybody. Creative. We just miss him."
BRB, crying forever. Now, we have no control over casting here, but when Albus Percival Wulfric Brian Dumbledore tells you to do something, it's best if you do it. Fingers crossed he makes an appearance in Fantastic Beasts!
(Images via Warner Bros)