Who is Michael B. Jordan dating? According to the actor, he's "technically single"
For the past few weeks, we've watched as the cast of Black Panther has embarked on a worldwide press tour to promote the highly anticipated Marvel movie. But after what feels like a lifetime of anticipation, Black Panther officially arrived in theaters on February 16th, and it's expected to make over $170 million during its first weekend. But while the Black Panther press tour has had us eagerly awaiting the film's release, it's also given us a lot of time to talk about the crazy talented cast, over and over again.
While, let's face it, we're always crushing on Michael B. Jordan (I mean, just look at him), catching up with him daily during the Black Panther press tour is definitely something we've gotten used to…and we're not thrilled to see it coming to an end.
But as we've been watching him charm audiences worldwide on the press tour, one very important question has come to mind: Is Michael B. Jordan single?
Speaking to the WSJ Magazine, the actor said he's "technically single." So what does that mean, exactly? Apparently, exactly what it sounds like. During the Black Panther premiere in Los Angeles, the Creed actor reiterated his relationship status to Entertainment Tonight, saying, "Technically I'm single. Dating but, you know, technically single."
Jordan added to WSJ Magazine that while he's been giving dating a shot, he doesn't think Los Angeles is a great place to date. That's not to mention the difficulties of dating when you live with your parents. The Fantastic Four actor also told the magazine that his parents have moved to Los Angeles and are currently living with him. We've been there, and trying to date with your parents around and asking questions is not ideal.
But while Jordan may claim he's single, that hasn't stopped the internet from deciding that he and Black Panther costar Lupita Nyong'o are meant to be. Throughout the press tour, the pair have displayed their seriously intense chemistry — and everyone has noticed.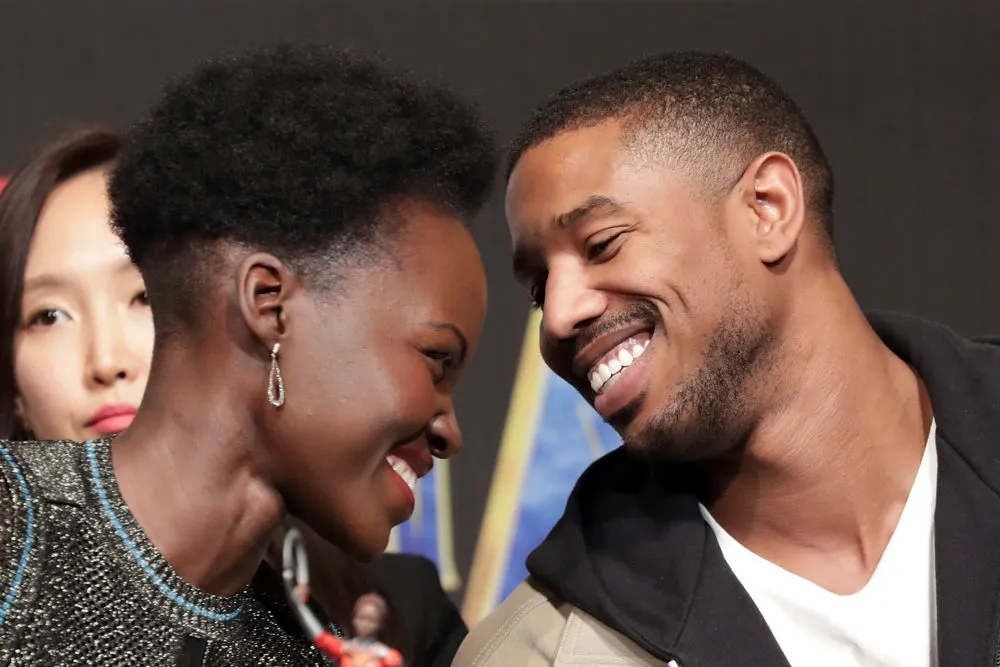 They say a picture says a thousand words…
But until Jordan and Nyong'o confirm that their love is real, we just have to take the actor's word for it that he's "technically single" and maybe, just maybe, we have a shot.