How a YouTube beauty guru balances shooting videos and email overload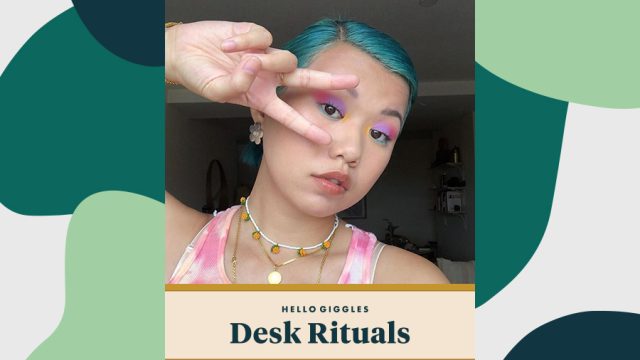 Whether you're putting in 40+ hours a week or answering *just one more* email at night, your work schedules can affect your mental health. In Desk Rituals, we connect with women from across all industries to see how they tackle their everyday stresses at work—and how we can incorporate their tips into our own routines.
When you look at Mi-Anne Chan's Instagram, you can't help but be enthralled by her candy-colored locks and whimsical eye makeup. Her attention to detail and fresh approach to beauty has not only earned her just shy of 46k followers, but has also granted her the ability to make a career out of documenting her looks. But before Chan became the video queen we know her as today, she was a beauty writer at Refinery29 with no clear intention of diving into the YouTube space—until her boss decided differently.
"My first foray into video was almost by accident. Refinery29's video department was in its more formative years and they really wanted to capitalize on beauty content," Chan tells HelloGiggles. "So my then-boss had me liaise between our team and the video team because, to be frank, none of the more senior editors really wanted to take that on."
Chan's consumption of beauty content on YouTube and other digital spaces gave her an advantage when it came to executing videos with an editorial eye, which eventually led to her taking on more producing and hosting roles at the media company—including starring in her own YouTube show, Beauty with Mi. "When that took off, I transitioned to video full time in order to dedicate more of my time to the show," she says. "It was a hard decision to leave editorial, but I knew that I had an opportunity to do more with the show while still writing occasional stories on the side."
After five years at Refinery29, Chan knew it was time to try something new. Her next venture? Becoming a video director at Condé Nast Entertainment. "Not gonna lie, I cried. I felt like I was leaving a part of my identity at my last company. But ultimately, I knew I'd learn so much at my new job and that I'd have more responsibility and ability to work across multiple magazines and subjects. It was an adjustment, but that's life, right?" she says. 
For this month's Desk Rituals, we spoke to Chan about her day-to-day work routine, how she tackles stress at work, and what self-care trinkets she keeps at her desk. Here's what she had to say.
Mi-Anne Chan's Desk Rituals
Sunday Prep Routine: I won't lie and say I've got a routine down pat in terms of setting myself up physically and mentally for the week. I'm notoriously bad at mornings, so I do most of my prep for the week the night before. I'm lucky enough to be working from home for the foreseeable future, but I set myself up for the week similarly to when I was going into the office. I like to get our apartment clean and organized Sunday night so that I don't have to think about stray papers or a dirty bathroom sink while I'm trying to focus on work.
Morning Rituals: [While I wish I could be a] morning person who wakes up early to read and drink tea and hang out with my cat, the reality is I've scheduled out my mornings down to a science because I need to get up and out to get to work at a reasonable time. I usually get up, chug a glass of water, and do my makeup for 20 minutes before hopping on the subway. Now, since I'm working from home, I do what Paul McCartney sang so eloquently in "A Day In The Life": wake up, fall out of bed, run a comb across my head, and drink a cup (of tea). Then I sit down in my home office/filming space and get to work.
Workday Routine: I'm usually juggling three to four videos at a time as well as developing new series concepts, so every day is a little different. I spend a lot of time interviewing experts ahead of shoot dates, writing scripts for talent, and outlining episodes prior to shooting. Once a shoot day comes, I direct on set, making sure we're getting everything we need and making creative decisions with my producer on things like lighting, camera angles, and story structure.
Right now, we're figuring out how to shoot everything remotely since our studios are (rightfully) closed due to COVID-19, so that's been an interesting challenge. Once we've wrapped, we dive deep into post-production, which means a lot of hands-on time with our editors to shape and craft our video before it's finalized and published.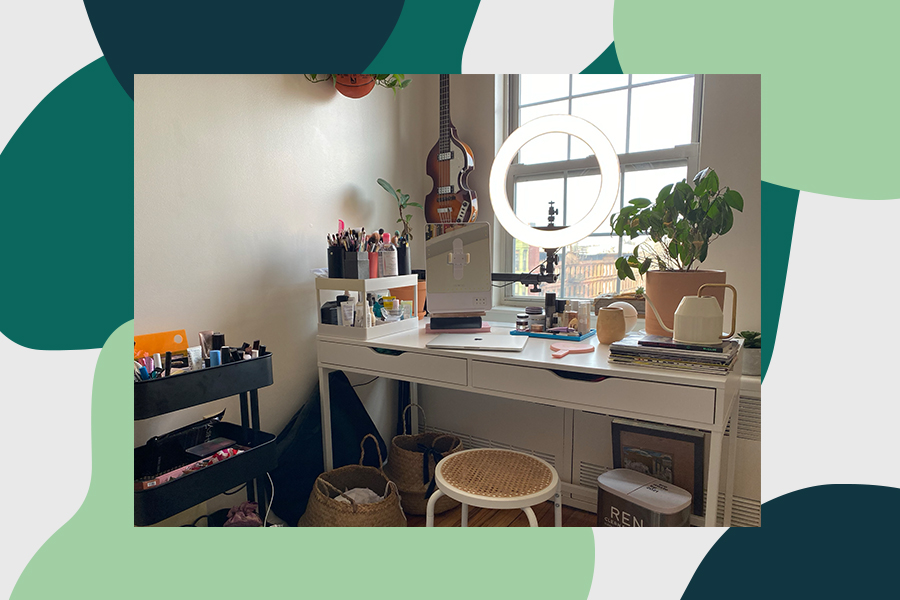 Weekday Commute: [Before the pandemic,] I would try to wedge my way onto the crowded [subway] car or mad-dash to the only available seat. Getting on the subway at rush hour gives me a special kind of anxiety. If I [could] snag a seat, I'd read a few chapters of a book (sad to say I've been reading Pachinko by Min Jin Lee for too many months now). If I [didn't] have a seat, I'd listen to a podcast—usually an episode of Bon Appetit's Foodcast if I [needed] to relax, or Ologies, The Daily or Planet Money if I [wanted] some food for thought.
I'd also always have hand sanitizer on me if I [had] to touch the subway pole. My favorites are All Good Peppermint Hand Sanitizer and these flat babies from Touchland (both of which have the CDC-recommended alcohol concentration of above 60%). 
Meeting Strategy: I try to really own my calendar. It's tedious, but if a meeting needs to be made, I like to offer to put the meeting on everybody's calendars. That way I can assess my own schedule and figure out a good time for all of us to meet. (It also helps to block out parts of your calendar if you need to get a project done so that no one can put meetings on your calendar for that time period). Of course, I'll get invited to meetings I don't make, and when that happens I try to be vocal (within reason) and speak up if I need to move the time or shorten a meeting so I can get other work done. Another thing I like to do is stack meetings on blocks. Sure, I'll be away from my desk for a couple of hours, but then when I'm done, I'll have hours of uninterrupted time to hunker down and be creative. 
Lunch Set-Up: I like to meal prep so that I have lunches at the ready. I batch-make things like pastas and curries, and I find eating food I've made throughout the workday makes me feel so much better than ordering to my desk. This is in part due to the fact that I can control what goes into my food, but it also keeps me from doing that thing where I wait until I'm starving to get food and then, once I get to the cafeteria, end up scarfing down food way too quickly. 
My boyfriend and I will typically make a meal that will last us a couple of days on Sunday night, then again on Wednesday night to see us through the rest of the week. Some of my go-to batch-meal recipes are this butter chickpea curry, this super-simple lasagna, this vegetarian sheperd's pie, or a burrito or Mediterranean bowl with homemade hummus. I am trying really hard not to snack on the chips and chocolate readily available in our office kitchen because I tend to feel horrible after, so I try to eat fruit instead. Needless to say, it doesn't always work out, haha. 
Work-Life Balance: Know your boundaries! For years I took work home with me and worked late into the night rather than speaking up and being reasonable about my workload. When you're first starting out, I understand wanting to do your best and be there for your team 24/7, but you also need to know when to respectfully say no. Learning how to respectfully decline is such a powerful skill that won't just safeguard your own mental health, but honestly makes you a more valuable employee at the end of the day. If you can, it also helps to turn off push notifications for Slack and email, especially once you sign off from work. It's something I've learned over many years working with teams and it has made the purported "work-life" balance a bit more achievable for me. Although I will say I don't necessarily believe in the adage that you can have that perfect balance because, frankly, sometimes life will need to take center stage and sometimes work will, and that's okay.
Me Time: I try to schedule nights "off" for me every other day. By that I mean, nights where I'm home, cooking a meal with my boyfriend, hanging out with my cat, and watching a movie or watching Schitt's Creek over a couple of beers. The other nights are when I'll schedule things like after-work events and much-needed dinners with friends. But having nights at home is essential. If I'm out every night until 10 p.m., things get messy reallll quick…mentally and in my apartment. 
Self-Care Desk Trinkets: I never really understood why people invested in aromatherapy oils to make themselves feel better until I found a peppermint one. This Saje Wellness Peppermint Halo Aromatherapy Oil has a blend of oils, but plain ol' peppermint essential oil does the trick, too. I dot this onto my temples every day around 4 or 5 p.m. and take some deep breaths. It really helps calm me down and get me through the last couple of hours of the workday. 
I have one plant on my desk at work and three at my desk at home and having them there while I work makes me so happy—not just because they're pretty, but because they encourage me to take breaks throughout the week to water them. I [also] have a handful of Poppin dividers, boxes, and a monitor riser at my desk at work and I can't explain how satisfying it is to organize things and put them into little boxes. I'm notoriously messy (ask any of my past deskmates), so having storage containers makes it easy to stash away clutter with minimal effort. Once my desk is visually clear, it makes it so much easier for me to clear my mind for work.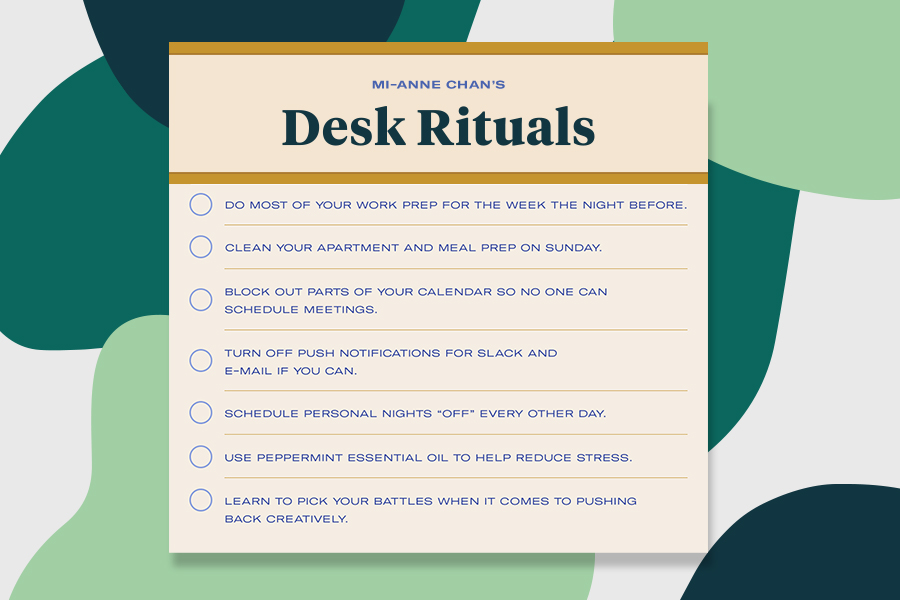 Email Routine: Honestly, my email is a wreck. I get so many pitch emails, it's hard to stay on top of it. Every few weeks or so, I go crazy and try to get my inbox to zero. It happens…sometimes. If anyone has tips on the best email organization tips, I'm all ears!
Strategy for Saying No: When it comes to pushing back creatively, I try to pick my battles. I pride myself on my ability to compromise and on my willingness to collaborate, but if there is a creative decision that I feel very strongly about, I try to come in extremely prepared so that everyone I'm working with knows I've thought this through from every possible angle. Show people you have a fully fledged vision and, most of the time (but not always, which is okay, too), they'll come around. 
After-Work Self-Care Rituals: Forced mindfulness is something I try to do if I'm feeling stressed or anxious at work. I'll turn my phone on airplane mode and dedicate a few hours to making a meal I've never made before, whether it's no-knead focaccia or white bean pasta. It forces me to engage my hands and focus on the task at hand and I find that really helps get my mind off whatever is stressing me out. I actually wrote an entire essay on anxiety and cooking for the newsletter I just launched! 
Also, after I've cooked and let out all that stress, sometimes I'll do a little multi-masking. I'll take my makeup off with a cleansing balm (I love this one), then follow up with an exfoliating mask (this one is amazing and smells like fresh cherries) and a clay mask (I recently discovered this one which is great and not too drying). Then, I'll top it all off with a thick cream (this one is so luxurious) and oil (this is an all-time favorite because it absorbs so quickly).