This Mexican flag elote will make you shout, "¡Viva México!"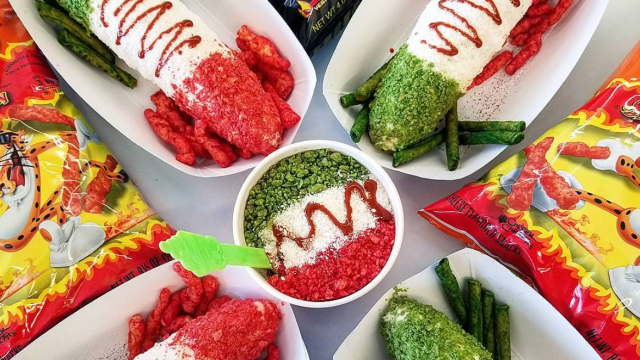 We'd just like to say, there's no wrong way to eat elote. Whether you're eating it on the cob, slathered in chile powder and lime, or in a cup with mayo and cotija cheese, this is one snack you can eat however and whenever you please. While we've seen some inventive takes on the street food staple — hello, unicorn and flaming hot Cheetos elote! — there's a new version that's a feast for our eyes and mouths.
Southern California's Swirl Fiesta just revealed a Mexican flag elote, called MEXielote, which will have you waving your banderas and screaming, "¡Viva México!" in no time.
Although we normally wouldn't eat red, white, and green elote, we can't help but make an exception for this Mexican staple, which comes as corn on the cob or in a cup.
According to Popsugar Latina, the colors on the corn come from cotija cheese, Flamin' Hot Cheetos, and Takis Zombie (which are habanero and cucumber-flavored tortilla chips). The mix of cheesy spice and the cool kick of cucumber is already leaving our mouths watering. Add to that the taste of fresh elote, and you have us sold.
We can imagine eating this delicious, colorful snack with a tall glass of horchata or agua de sandía. And while we would be down to snack on this regularly, el MEXielote is only available until the end of September. So, if you need one of these ASAP, head to Swirl Fiesta in Riverside, California and you'll be able to eat your dream elote in no time. 
We'll be fantasizing about this elote until then.