A new study shows that the #MeToo movement has made concrete change in attitudes about sexual harassment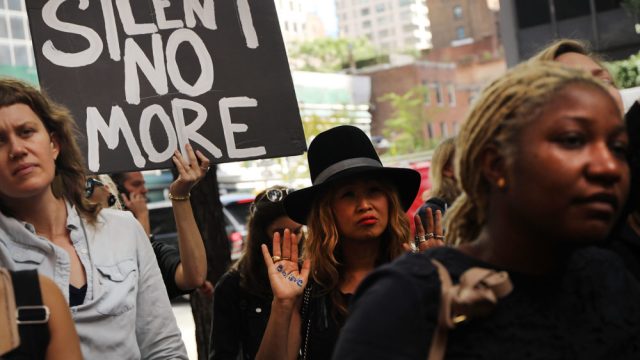 Over the past year, the #MeToo movement has helped countless survivors of sexual harassment and assault come forward with their stories. However, some have wondered if the movement has actually led to any measurable change in our culture, and—thanks to a new study—it's clear that it's making a difference.
The Fawcett Society, a British charity focused on gender equality and women's rights, published the study today, October 2nd. To reach their conclusions, researchers from the society looked at survey results from 2,056 adults across the U.K. The researchers found that 53% believe that the threshold for acceptable behavior has changed since the #MeToo movement began. And, in even more good news, more than half of respondents age 18-34 said they were more likely to call out sexual harassment. This figure includes 58% of young men.
But the findings weren't all positive. The study found that while people 55 and older were likely to think that the boundaries for behavior had changed, they were less likely than younger people to talk about sexual harassment or call it out when they see it. According to the results, older men were 27% less likely than younger men to say that their thoughts about acceptable behavior had changed as a result of #MeToo.
While the results of the study are encouraging, the Fawcett Society noted that society still has work to do in order to prevent sexual harassment. In May, a survey from the American Psychological Association found that only 32% of Americans felt their employers had made changes to address workplace harassment.
While we're heartened to find that attitudes about sexual harassment have changed for the better over this past year, ending sexual harassment and assault once and for all means taking real and concrete steps. Basically, we're just getting started.