Get ready to see metallic freckles everywhere this summer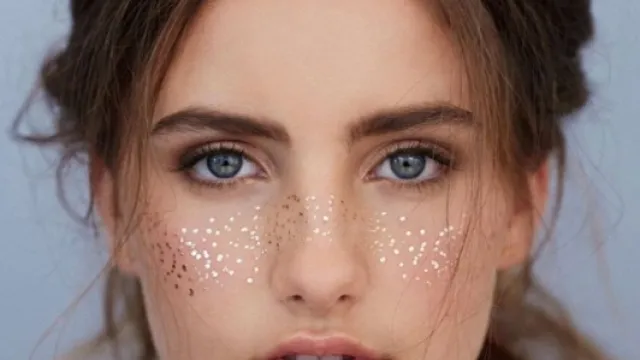 If you're looking to step up your festival style, look no further. The newest trend sweeping the internet is metallic freckles! Get ready to see them everywhere this summer.
Luckily for you, you don't even need to learn anything special in order to pull off this look. All you'll need are BeautyMarks temporary tattoos by Mr. Kate. These metallic freckles are easy to apply and they pull together a festival look like no other. So while the fake freckle trend was super hot this year, this metallic take on it will burn your haters to the ground.
Who is Mr. Kate?
Mr. Kate is a brand founded by Kate Albrecht.
Her company sells everything from jewelry to temporary tattoos. Basically, everything that you'd want to bring with you to Coachella next year.  Their most recent breakout product happens to be temporary metallic freckles that you stick on your face to impress the world with. They come in gold and silver in a variety of freckle patterns.
Kate even has her own YouTube channel, where she shows behind-the-scenes videos of the company. Now that is a business model we can totally get behind ASAP.
https://www.youtube.com/watch?v=BcpDQncrT2k?feature=oembed
Freckles for all!
Because highlighters have become the new beauty darling over the past year, it makes sense that reflective freckles would be next. They are attention-grabbers. So be prepared to stop and explain to people exactly how you got these magical spots on your face.
They're not just for festivals.
If you are not a festival goer, do not fret. This look can work in a high fashion situation as well. Or just to make a statement on a casual summer day.
The instant pop of color that can be highly impactful, but easy to take off, too. If you're planning on hitting the beach, why not add a little flare to your day?
Overall, this might just be our favorite trend of 2017 so far!