Meryl Streep could see Amy Schumer playing her in a biopic, and we're like, now please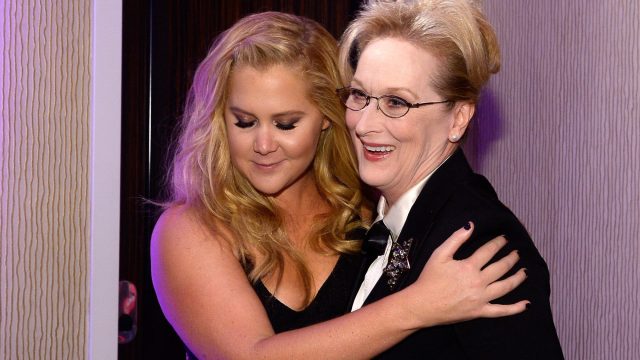 Meryl Streep is a #LEGEND. As of 2015, she's received a whopping 19 Oscar nominations and has played everyone from Margaret Thatcher, to Julia Child, to a badass lady boss in The Devil Wears Prada. Oh, and she once wrote 535 letters to Congress asking for equal pay for women. Basically, she's awesome AF.
So just when we thought we couldn't love her any more, she goes ahead and says that she could totally see Amy Schumer (aka our other hero) playing her in a Meryl Streep biopic. YES!!!!

In an interview with The Huffington Post to promote her new movie Florence Foster Jenkens, Streep struggled to come up with answers to questions like, "Which one of your friends would be best at chopping wood," and "talking like Kermit the frog?" But when asked, "Who would be best at playing Meryl Streep in a Meryl Streep biopic," she instantly shot back with,
"Amy Schumer, of course."
You can see the full video here:
And Amy's pitch-perfect response?
https://twitter.com/udfredirect/status/764583748448952321
There are almost too many things to count about why we freaking love this. But we'll start with the fact that the amazing Meryl Streep clearly is an Amy Schumer super fan just like the rest of us (which means she clearly has a KILLER sense of humor).
We're also obsessed with how genuinely stunned and happy this seemed to make Amy, proving she's just about the most relatable super star ever to walk the earth.
And if this whole biopic thing doesn't end up happening, maybe they'd consider costarring in a movie together? Please? Pretty please?