Meryl Streep perfectly recreated a famous Meryl Streep meme at the 2018 Oscars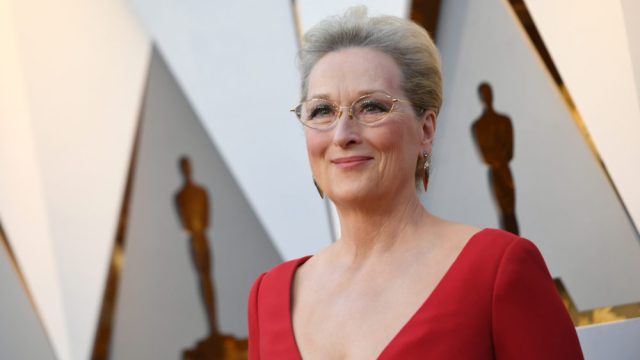 Meryl Streep knows what the people want. Or, perhaps, she's just an incredibly supportive audience member. Either way, Streep updated her own meme at the 2018 Oscars and the internet is beaming.
To refresh your memory, we're referring to the meme taken from the 2015 Screen Actors Guild Awards. Streep was caught giving a two-handed "whoo!" (or maybe an "I love you!") to Debbie Reynolds, who sadly passed a year later in 2016. Reynolds had just accepted the Lifetime Achievement Award from her daughter, the now late-Carrie Fisher.
Streep's hoot and holler became a mainstream meme in 2017 when people on Twitter began putting words in her mouth in the best way. Don't worry. No Streeps were disrespected in the use of this meme.
false
And during the 2018 Oscars, The Post actress pulled a classic move and gave yet another two-handed "whoo!"…and the internet went wild. We love cheering Streep! Give us more! false false
Just like that, new life was breathed into the years-old meme. We're now officially armed with two cheering Streeps, which means double the fun, double the jokes, and double the Meryl memes.
Streep was nominated for Best Actress this year for her role in Steven Spielberg's The Post, bringing her up to a whopping 21 nominations (aka more noms than any other actor or actress on the planet). And she's next set to appear in this year's Mary Poppins sequel, Mary Poppins Returns.
Stay tuned for the second round of Meryl memes destined to grace your Twitter feed in the coming days. We have a feeling they're going to be epic.