Meryl Streep's Oscar statement is a GIF, because #Queen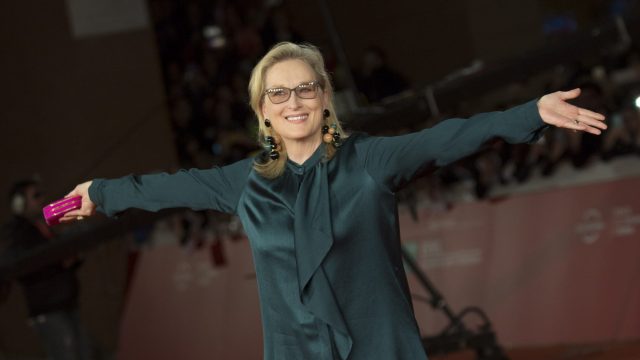 As if we needed another reason to love her, Meryl Streep responded to her 20th Oscar Nomination with a gif. In related news, Meryl Streep is ALL OF US.
Like, this is a pretty big moment for her. We get that getting nominated for Academy Awards might be a little blah to her now after decades of killing the game, but 20 is a big, noteworthy number that nobody else has been able to achieve, so we'd expect most people to have something moving or sentimental to say, but nope.
Meryl Streep proved herself to be the hero we all deserve yet again, when a Paramount publicist sent in a gif to Variety and stated, "Please find the following GIF as a statement on behalf of Meryl Streep."
Did we mention we couldn't love her more?
Meryl Streep was nominated this time for her role in Florence Foster Jenkins, a dubiously talented opera singer. Of her record-setting 20 nominations (we literally can't get over that number — 20) she's won three, which is a more than respectable tally in and of itself. The Academy Awards she's won have been for Kramer vs. Kramer, Sophie's Choice, and The Iron Lady.
Congratulations, Meryl Streep! We hope you dance your way to another Oscar.