DROP EVERYTHING — the first photo of Meryl Streep in Big Little Lies is here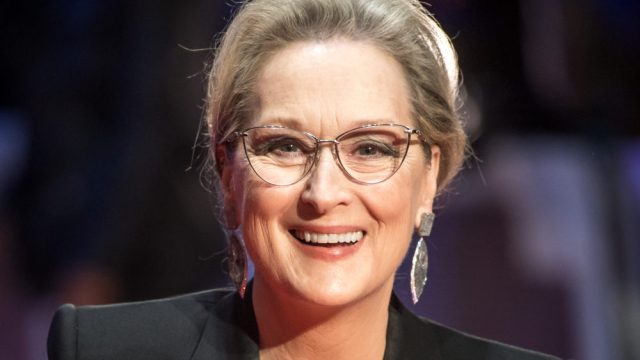 We've been girding our loins ever since HBO announced that Meryl Streep would be joining Big Little Lies for Season 2, and our patience (ok, we haven't actually been that patient) has finally paid off. Thanks to Nicole Kidman sharing a little glimpse of Big Little Lies Season 2 on Instagram, we now have our first look at Streep in character. So yeah, you can start freaking out now.
ICYMI, Streep is joining Big Little Lies as the mother to the late Perry (Alexander Skarsgard, who will return in some capacity despite his character's death in the finale), and Kidman's Insta from her first day on set with Streep's Mary Louise Wright shows her having a pajama party with her daughter-in-law Celeste and her two grandsons. They look cozy together, watching something on an iPad, cuddling on the floor next to one of the boy's beds.
Is this the picture of an idyllic family moving on past the death of the patriarch? Does Mary know about all the abuse Perry dealt to Celeste, and how it negatively affected the boys? Does she know about Perry's history of rape and his *other* son, raised by Jane (Shailene Woodley)? We've got so many questions and this photo hardly answers any of them. But that won't stop us from inquiring!
If the sweet smile on Meryl Streep's face in the photo is any indication, the family will be doing just fine in Perry's absence.
When Streep was first cast as his mother, many wondered if she would be arriving in Monterey to get to the bottom of her son's murder, or if he'd inherited his anger issues from her and she'd be coming for revenge. If Celeste is relaxed enough to have this sweet, pajama party with her mother-in-law and grandsons, maybe Mary is going to be a great ally for Celeste moving forward. Lord knows she certainly could use some peace after her years of suffering with Perry.
With just one photo, Kidman practically broke our Big Little Lies-loving brains. And even though this writer is still skeptical about the need for a second season for a show that was meant to be just one-and-done, this tease of a photo has definitely ignited my curiosity. Nice job, Kidman.