Anna Wintour interviewed Meryl Streep, but the former did *not* want to talk about "The Devil Wears Prada"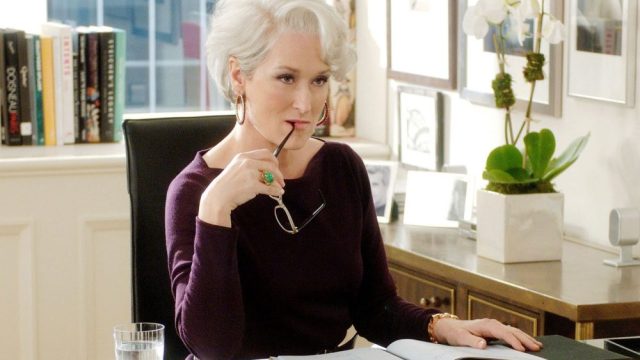 Within the painfully chic offices of Vogue, two of the world's most powerful lady bosses — Miranda Priestly, er, Meryl Streep and Vogue editor Anna Wintour — sat down for a little chat. Touching on everything from Streep's new movie The Post to Harvey Weinstein, the women displayed their signature style and grace, and it seems nothing was off limits.
Well, okay, nothing except The Devil Wears Prada. Wintour did not want to go there.
Streep famously owned The Devil Wears Prada role that pretty much everyone agrees was inspired by Wintour. She even earned a Best Actress nomination for it (her 14th Oscar nod at the time because, duh, she's Meryl Streep). But when Meryl vaguely suggests fashion editor Miranda Priestly may have been a contender for the most challenging woman she's ever played, Wintour is quick to move on to the next question. Honestly, we're kind of glad she did because the rest of the conversation is basically everything we wanted and more.
https://www.youtube.com/watch?v=dW4wpGg64pE?feature=oembed
Katharine Graham, the fearless female editor Streep embodies in The Post, is a character Wintour is happy to talk about because the real Graham was her close friend. Though male editor Ben Bradlee and reporters Bob Woodward and Carl Bernstein often get the credit, Graham led The Washington Post as it broke a series of stories that would eventually take down President Nixon in the 1970s. As Streep and Wintour point out, Graham is a perfect example of the bravery it takes to stand up to power — a theme that's still dominating headlines today.
"This moment is absolutely thrilling. This is a door that will not be closed. We got our foot in there now. And it will be very difficult for people to conduct their lives the way they have in the past. 'Oh, that's just locker room talk.' 'Oh, that's just the way men are.' No, it's not. We're civilized people, and we learn from our mistakes."
The revelations that are happening now, Streep says, will hopefully start an awareness movement beyond the privileged confines of Hollywood.
The rest of the women's conversation was just as insightful — we especially like the part when both Streep and Wintour agree we'll see a female president in their lifetime — but really, is anybody surprised?