Meryl Streep's Golden Globes date is a woman you need to know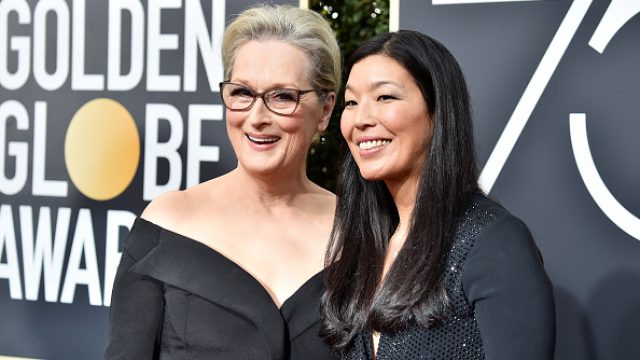 We love that the 2018 Golden Globes is all about the ladies. In addition to great commentary from celebrities in the wake of the sexual misconduct revelations in Hollywood, we've been given an additional blessing: Golden Globes attendees bringing incredible activists as their plus-ones. Meryl Streep, for one, walked the red carpet with Ai-jen Poo this year.
Ai-jen Poo is the director of the National Domestic Workers Alliance as well as the co-director of Caring Across Generations. Basically, she's a boss, and we're not sure who makes us more happy, her or Meryl.
Meryl Streep commented on her dope choice in plus-one and the reason behind bringing Ai-jen Poo to E! News:
"She and I are so happy to be here in this particular moment. I think that people are aware now of a power imbalance and it's something that leads to abuse. It's led to abuse in our own industry, and it's led to abuse across domestic workers' field of work. It's in the military, it's in Congress, it's everywhere and we want to fix that. We feel sort of emboldened in this particular moment to stand together in a thick black line dividing then from now.
Ai-jen Poo made her own statement about attending the Golden Globes on the NDWA website.
"I'm honored to attend the Golden Globes representing the 2.5 million nannies, house cleaners, and home care workers that care for our families and homes. Domestic workers, as some of the most at-risk and invisible workers in the nation, want to send a clear message: from the casting room to the kitchen, all women deserve dignity and safety where they work. Domestic workers know the power of organizing and see this moment of unity among women across industries as a turning point for our movement end sexual harassment and violence once and for all."
We love this display of unity between the women, and can't wait to see what amazing things they — or we! — make happen. Happy 2018, y'all. ?