An actual mermaid café exists, and it looks as dreamy as it sounds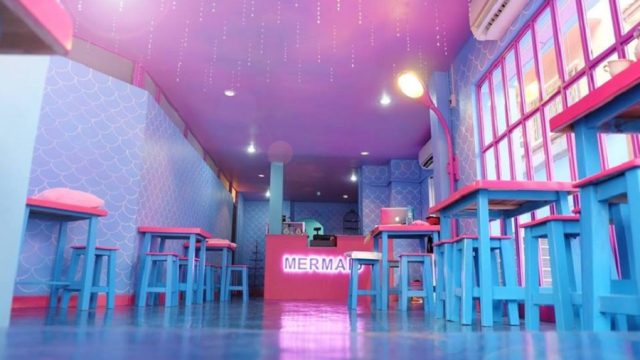 Raise your hand if you would join us on a trip to an actual mermaid-themed hangout. Don't be shy — the more, the merrier, right? Anyway, we need a head count ASAP so we can warn the owners of the Mermaid Island Café in Thailand about the impending takeover that will happen when all of us rowdy Ariel-wannabes show up and completely swarm the place. Now, if someone could hook us up with a hotel full of Little Mermaid-inspired clamshell beds, that would be pretty sweet.
In addition to fueling our obsession with all things mermaid, here's something else that will definitely take a visit to this wonderful oasis in Pathum Thani, Thailand to another level of awesomeness: We caught a glimpse at the joint over at Cosmo, and it is an actual dessert café.
Yes, shake the salt water out of your eyes and reread that last line: The Mermaid Island Café is a dessert shop.
Judging by the pics, this place is everything dreamy and then some. From the neon color palette to the mermaid tails guests are given to wear upon entry, the café has us in "Must Go There Now" mode.
If this isn't a mermaid #mood, we don't know what is:
Um, look at the restroom:
Because dogs are totally about that mermaid life:
And we can't forget about the desserts. Among the menu items are a strawberry vanilla frappé decorated with a mermaid tail, hot milk with a "pinkblue" rainbow, clam cookies, colorful mermaid pound cake, and a "Milky Way" waffle with bananas and ice cream.
#YUM.
We'd like to formally suggest that all mermaid schools update their curriculum to include a course on "how to eat like a mermaid," in which students have unlimited access to this ah-mazing café and its desserts.
Feel free to thank us later, future mermaids-in-training.