"Meringue coffee" is about to be your new favorite Instagram trend, but it's almost too beautiful to drink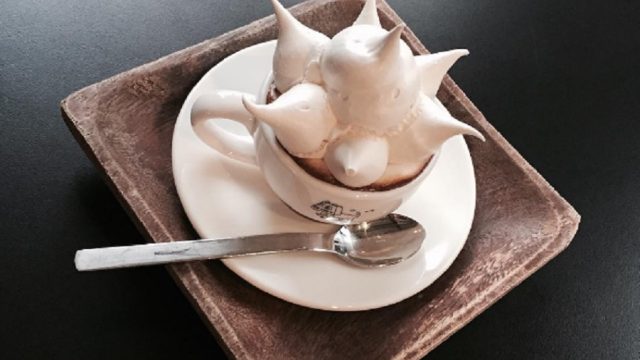 If you're an avid coffee drinker, we're assuming you don't spend too much time staring into your cup(s) of joe before the liquid hits the bottom of your belly, but we're not sure you'd be so sip-happy in the presence of this Meringue coffee, aka Instagram's new coffee trend.
We spotted the artsy coffee at Delish and have been staring at it in awe ever since. But thanks to the new coffee guidelines that tell us it's totally healthy to drink a Gilmore Girl-quantity of coffee, we encourage the caffeine-deprived to get ta gulpin' this perfect cup of coffee, but not before you take a pic for the 'gram because it's more than ready for its closeup:
https://www.instagram.com/p/BCnPezrJipZ
According to Mashable, meringue coffee originated at Takeout Drawing café in Seoul, South Korea. It's official name is Paul's Meringue Factory, an espresso and milk combo topped with a meringue cookie.
https://www.instagram.com/p/BNmIVSRj4r-
https://www.instagram.com/p/BMv6BXJAw6q
https://www.instagram.com/p/BNoGvCNgq_Q
Pairing it with strawberry cake would probably bring on one hell of a sugar rush, but it sure makes for a pretty pic:
https://www.instagram.com/p/BIzKoNeAcYG
If you're planning a trip to Seoul anytime soon, we can't imagine you'd miss out on the chance to drop by the Takeout Drawing café to sip (and eat?) meringue coffee to your heart's content. As DanielFood Diary notes, everything on the café's drink menu is inspired by artists' drawings and the food and beverage sales help fund the art exhibitions and talks that take place there.
Sipping coffee all day and supporting the arts at the same time? Sounds like bliss.