Mercury Retrograde Is Happening Next Week—Here's What This Means for Your Zodiac Sign
Scandals and drama will be revealed.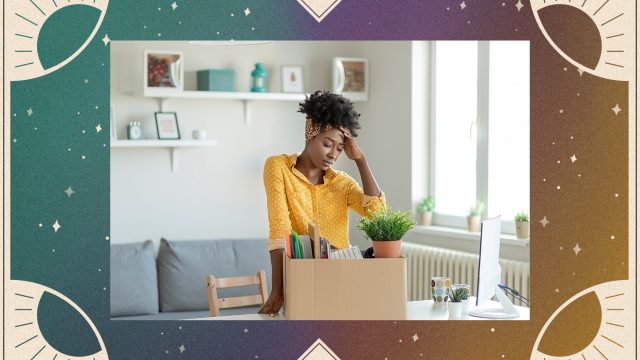 Mercury retrograde is upon us once more. This time, the trickster planet will be moving backward from Scorpio to Libra from October 13th to November 3rd (Election Day in the U.S.). A lot of scandals and drama will be revealed during this time (especially when it comes to relationships). Keep your ears and eyes open because the truth is coming out and the tea is piping hot!  
Here's your Mercury retrograde horoscope. Also, make sure to check your rising sign, too.
Aries  
You're unsure of what you are looking for in regards to relationships at the moment. To commit or not commit is the question. Think matters through before you end a friendship or relationship with your S.O. Try not to make permanent decisions that will augment your love life and friendship circle.  
Taurus  
Stepping up your beauty regimen by reverting back to an old routine you followed in your youth will not only serve to soothe your skin, it will also motivate you to take better care of yourself. You'll be surprised by how much you like giving your body some TLC.  
Gemini  
Your day-to-day routine is becoming exhausting and tiring. Don't be afraid to spend extra hours in bed and to hit the snooze button a few times. You work super hard and deserve to have a few restful moments during this retrograde to chill and move at your own pace.  
Cancer  
A former flame is headed back your way, making you question your current situationship. Before you re-spark a connection with them and try to become lovers again, think about whether or not you want to actually be with them. It may just be a temporary flirtation that goes nowhere.  
Leo  
It's time to make minor renovations in your home. Before you buy new decor, which you may not be into a few weeks from now, add a little dose of seasonal inspiration to your abode. You'll enjoy picking out and choosing new throw pillows and wall hangings.  
Virgo  
Rumors may be circling around you—but they aren't exactly false. In fact, they are half truth and half fiction—and they aren't necessarily bad. Listen to what information comes to your attention and use your analytical mind to decipher the gossip from the real truth of the matter.  
Libra  
It's hard to keep boundaries with others—especially when you're the one who's not upholding them in relationships. Try holding yourself from bombarding your besties with a ton of late-night texts and calls when they're at work. Set limits with your crew to show them a little respect.  
Scorpio  
No one knows more than you that it's never too late to change your fixed ways. But you just haven't had the motivation to transform your life until now. Take all the necessary steps to grow and augment your vibe. Think of this retrograde as your personal cosmic remix.  
Sagittarius  
You're taking a break from the noise and drama of life during the course of the next few weeks. Spend time focusing on implementing self-care techniques, like meditation and relaxation, into your daily routine. You'll thank us later for the recommendation. Trust us, your body and mind will be happy.  
Capricorn  
Your friends may accidentally be excluding you from activities like late-night karaoke on Zoom or happy hour gossip sessions. Before you confront them, see if there was a miscommunication with the text and planning. TBH, they would never leave you out on purpose. Your pals love you too much.  
Aquarius  
You're second-guessing a position at work that you've been eyeing. It's totally okay to change career directions (when and if you're ready to make that leap). Don't be hard on yourself for re-evaluating your professional direction at the moment. Think deeply about what you want to pursue and achieve.  
Pisces  
You've been trying to take the high road in all matters; however, you may start to take the low road because it's easier to not be honest. Here's the real tea: You'll get caught being shady. Don't lie to save face and not rock the boat.