Um, *several* women married the Menendez brothers in prison — here's who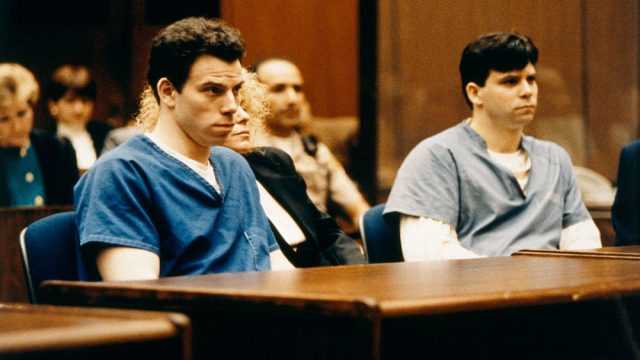 In 1989, Erik and Lyle Menendez shot and killed their parents in their home at 722 North Elm Drive in Beverly Hills. And on April 6th, after years of being held in separate prisons, the Menendez brothers were reunited. In the 22 years they've been in prison, the brothers have continued to attract public attention, including for their marriages, which happened behind bars. But who are the Menendez brothers' wives?
Tammi Saccoman Menendez.
Erik Menendez was first introduced to Tammi Ruth Saccoman via a letter she sent him during his first trial in 1993. The two continued their correspondence, through the suicide of Tammi's first husband later that year. They met in person for the first time in 1997 and got married in 1998. In 2005, she authored a book about their relationship called They Said We'd Never Make It. That year, on MSNBC's The Abrams Report, Tammi said that, while she was troubled by Erik's killing of his parents, she felt that she knew who he was.
"It troubles me, but I do know the person that Erik is and I know his heart, I know his soul, and I do know what happened that night.  And I do understand," she said in the interview.
Erik and Lyle have maintained that sexual abuse at the hands of his father led him and his brother to kill their parents.
https://www.youtube.com/watch?v=thc2693BtA4?start=292&feature=oembed
Anna Eriksson.
Lyle Menendez wed former model Anna Eriksson via speaker phone in 1996. The pair met after she wrote to Lyle during the Menendez brothers' first trial in 1993. They divorced in 2001 after Lyle became penpals with another woman.
Rebecca Sneed Menendez.
Two years after divorcing Eriksson, Lyle married 33-year-old magazine editor from Sacramento, Rebecca Sneed. After their marriage, she became an attorney. They are still married, and in 2017, Lyle told ABC News that he felt it was possible for him to have a successful marriage.
"I've found I can have a healthy marriage that is complicated and built around conversation and finding creative ways to communicate, sharing, without all the props that are normally there in marriage in terms of going out to dinner and having as much intimate time together and so on," Lyle said in the interview.
The Menendez brothers' case has become one of the most notorious murders in history. And because of their husbands' past crime, the Menendez brothers' wives will likely continue to be in the spotlight.