You can Google Street View the home where the Menendez brothers committed murder, and yikes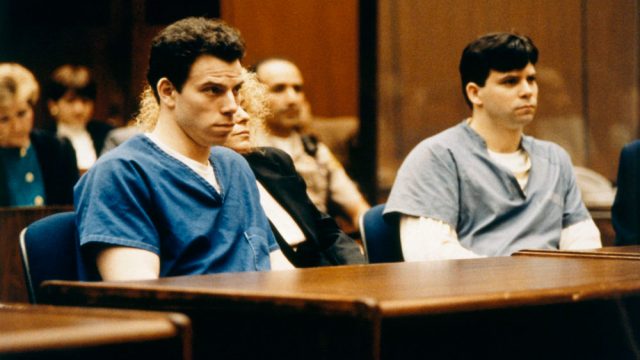 True crime fans, assemble: You can use Google Street View to see the famous home where the Menendez brothers murdered their parents, and we can't decide whether this is totally cool or totally creepy.
It was one of L.A's wildest, most highly-publicized murder cases of all time, and now it seems that those of us obsessed with true crime stories can get our fix by digitally visiting the Menendez family home, getting a chilling glimpse at the outside of the house where the 1989 crime took place.
Brothers Erik and Lyle Menendez — teenagers at the time — entered their family's home in Beverly Hills, California, on August 20th, 1989, fatally shooting their parents, José and Kitty, in the den of their Mediterranean-style mansion. They then reportedly disposed of their shotguns on nearby Mulholland Drive before driving to a local movie theater to purchase movie tickets as an alibi for their crimes.
The subsequent trial became one of the most sensationalized murder stories of the early '90s. And if you happen to live near Beverly Hills, you can actually visit the home. If you don't, you can check out 722 N. Elm Drive, Beverly Hills, CA, 90210 on Google Street View.
According to AOL, the two-story Beverly Hills rental home was originally built in 1927, sitting on "half an acre of land with just over 9,000 square feet of living space." It has a two-story guesthouse, private tennis court and pool, and two-car garage, and was reportedly difficult to resell after the murders in 1989.
Nearly three decades later, the Menendez brothers are serving dual life sentences in California prisons for the murders, though Erik was recently moved into the same housing unit as his older brother, according to CBS News.
The new unit gives inmates the ability to participate in educational and rehabilitation programs.
Wednesday, April 4th, marked the first time the brothers, now 47 and 50, have seen each other since 1996.
A spokesperson for the prison confirmed the brothers' reunion, saying, "They can and do interact with each other — all the inmates in that facility."
If you're still obsessed with the case, or simply want to take a peek at a historic home, feel free to check it out for yourself. Just try not to get too spooked.