The two men arrested at Starbucks gave their first interview, saying they were afraid for their lives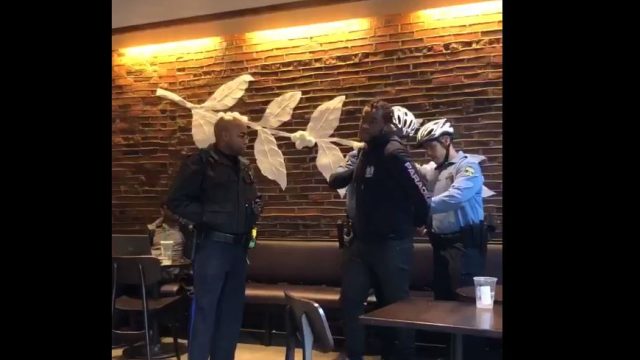 After two black men were arrested at a Philadelphia Starbucks on April 12th as they waited for a business associate, a viral video of the incident sparked outrage. And now, the two men who were arrested, Rashon Nelson and Donte Robinson, have given their first interviews since the incident.
Robinson and Nelson appeared on Good Morning America today, April 19th, to discuss their arrest. During their interview, Nelson recalled that he had tried to use the restroom after the two arrived at the Starbucks for their business meeting, and was told it was only for paying customers.
It wasn't long before police approached Nelson and Robinson and told them that since they hadn't bought anything, they needed to leave. Robinson said that they explained to the police that they were waiting for a business meeting, but that was unsuccessful.
"This is a real estate meeting. We've been working on this for months," Nelson said on GMA. "We're days away from changing our whole entire situation, our lives, and you about to sit here telling me I can't do that? You're not doing that."
In a separate interview with the Associated Press, Nelson said that the arrest made him fear for his life, saying that "You never know what's going to happen" when approached by police.
In the video of the arrest, the man Robinson and Nelson were waiting to meet, Andrew Yaffe, can be seen asking the police what the men did wrong.
https://twitter.com/udfredirect/status/984539713016094721
In response to the arrest, the CEO of Starbucks has apologized to Nelson and Robinson and announced his plan to close 8,000 Starbucks locations on May 29th for racial sensitivity training. In addition, Nelson and Robinson are working with the company to help rework policies about racial discrimination and customer rights. Robinson told the AP that he feels boycotting Starbucks will not bring about the change needed.
"We need a different type of action … not words, he said. "It's a time to pay attention and understand what's really going on. We do want a seat at the table."
The arrest of Nelson and Robinson is unacceptable, and while we're glad that Starbucks is taking the time to address the racial bias at the root of the case, our country still has a long way to go in eliminating race-based discrimination. We need to do better.