Melissa McCarthy and Yanic Truesdale had a lowkey "Gilmore Girls" reunion while on vacation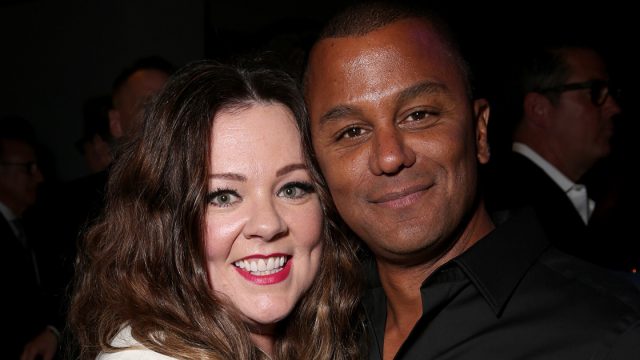 Taking a break from their duties at the Dragonfly Inn, Melissa McCarthy and Yanic Truesdale had a Gilmore Girls reunion when they bumped into each other while both on vacation.
Of course, McCarthy and Truesdale play Sookie St. James and Michel Gerard, respectively, on one of our fave shows, Gilmore Girls. While Michel resumed his regular place on the show when it returned on Netflix last year, Sookie was sorely missed, as her character was "traveling," until she cropped up right at the end to help Lorelai with her wedding to Luke (and what a flawless and beautiful wedding it was too).
Well, while Michel and Sookie might not have spent that much time together during Gilmore Girls: A Year in the Life, Melissa McCarthy and Yanic Truesdale just had a chance to reunite in real life.
In an adorable Instagram post, Truesdale shared that he had bumped into McCarthy while they were both vacationing in Greece (what are the chances, eh?).
"I love when this happens!" he wrote on Instagram. "By coincidence, we both booked a vacation at the same time in Greece! #magicaltiming #bestvacations."
Aww! We wonder whether, like in the show, they swapped quips about coffee, cooking, and running the Dragonfly Inn (okay, they probably didn't, but we can dream, right?).
In fact, it seems that Truesdale was having one Gilmore Girls-themed vacation. The actor shared another picture on social media of himself reading Lauren Graham's new book, Talking As Fast As I Can: From Gilmore Girls to Gilmore Girls, and Everything in Between.
"Catching up on my reading in Greece. At last a vacation! Proud of my friend Lauren for her funny and entertaining new book! #talentedactress #friendship #bestvacations," he wrote.
Clearly, Truesdale has Gilmore Girls on the brain. However, he might be the only one. Earlier this year, a few of the show's stars, including Milo Ventimiglia (who plays Jess) and Lauren Graham, were pretty quick to say we might not see more of the beloved show.
"I think there's far more risk to continue,"Graham told IndieWire. "You run the risk of disappointing people."
Whether or not more Gilmore Girls is in the cards, we love that the cast are clearly still really close with each other. And, you never know — these sorts of reunions could be the germ that kickstarts more reunion chatter…