Because we need this, here are Melissa McCarthy's "Saturday Night Live" Spicey outtakes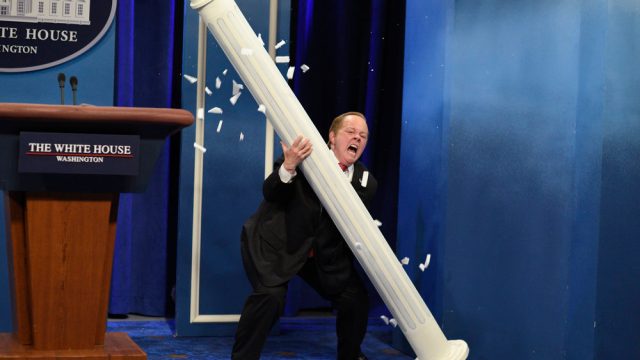 Last week, Melissa McCarthy graced our television sets for a full hour and a half during Saturday Night Live. It was not a night to be missed, and from the ratings, many didn't miss it — it was the most watched May telecast of the long-running show for the past seven years. The prior record was held by the Justin Timerblake/Lady Gaga episode back in 2011.
So, let's just go ahead and assume you saw it. But what you didn't see were the outtakes from McCarthy's bit as Press Secretary Sean Spicer out on the town with his rollin' podium. In the taped sketch, "Spicey" leaves the White House and travels north to NYC to try and find the President in Trump Tower. Hijinx ensue.
We were clued into the fact that this must-see event was happening when footage of McCarthy filming on the streets of NYC started showing up on social media. This is not lost on McCarthy who quips, "Good thing nobody knows we're shooting, this has definitely stayed undercover."
…as a huge crowd of people stand behind her and take pictures.
https://www.youtube.com/watch?v=-tYwSEU-aLY?feature=oembed
The Rock is set to host this week's season finale and let's go ahead and cross our fingers, wish, and hope that McCarthy returns to her podium one last time before SNL breaks for the summer. We need all the Spicey we can get.