Melissa McCarthy came back to "Saturday Night Live" as Sean Spicer, and she is officially the best part of life right now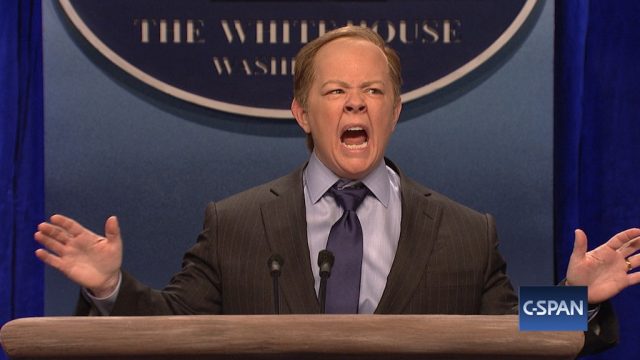 America's very best sweetheart Melissa McCarthy returned to SNL last night as Sean Spicer, and it was somehow even better than last time! Last week, McCarthy introduced her spot-on impression of White House Press Secretary Sean Spicer. Needless to say, it captured the heart of a nation!
Through the magic of her immense talent and the SNL hair and makeup team, McCarthy basically became Sean Spicer!
McCarthy's Spicer came here to "swallow gum and take names", and this week was no exception!
https://www.youtube.com/watch?v=
There was of course the return of gum swallowing, the podium, harassing reporters, and of course, the infamous prop box!
McCarthy also managed to call out a couple of real things that happened this week. For example, Spicer citing a terrorist attack in Atlanta that never happened, the Trump administration trying to re-administer the travel ban, and the White House plugging Ivanka Trump's clothing line on TV!
You know, just to name a few real things that happened in our government this week.
 McCarthy also hilariously called out Spicer's maddening circular logic with the press! The most real quote from the sketch is when McCarthy says that reporters are wrong for reporting when she says things that are wrong!
Kate McKinnon also made a brief and hilarious appearance as Jeff Sessions! We seriously hope this continues as a new tradition of McKinnon portraying someone from the Trump cabinet each week!
McCarthy's entire portrayal is super funny, and unfortunately not the far off from real life! We might not be able to control the course of current events, but at least we have SNL to make fun of them for us! It's an incredible comfort during these trying times, and we can't wait to see what SNL does next week! We seriously won't be surprised if the real Spicer actually invests in a segway podium by this time next week.
So thank you to McCarthy and the whole SNL crew! That was such an amazing sketch, and we're so glad you brought this into our living rooms!