Melissa Joan Hart has finally commented on the "Sabrina" reboot, and she's totally down for a cameo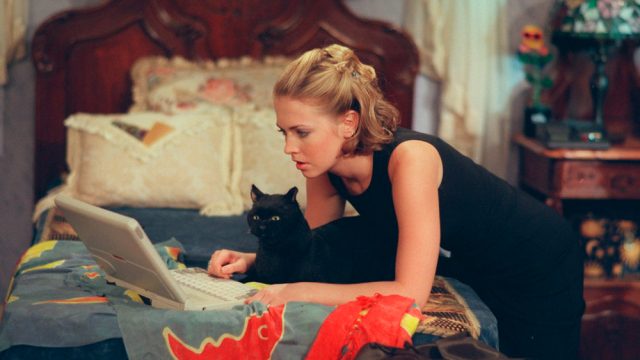 The OG Sabrina Spellman has officially spoken, and she's…not as excited about Netflix's reboot as you might think.
After months of keeping mum (except for one Instagram post) on the Untitled Sabrina Project, aka the streaming service's Sabrina the Teenage Witch reboot/kind of-sort of spinoff from Riverdale, Melissa Joan Hart has finally shared her thoughts — and they're not the ringing endorsement Kiernan Shipka should be hoping for.
Speaking to Entertainment Weekly, Hart says she's "indifferent, really" about having her ABC sitcom heroine revived as a darker iteration. "People kept asking for it, and they were already doing Riverdale, so I guess it made sense," Hart says. "I think they're doing it in a smart way — change it up, don't make it the same. If you're going to do the same show, it probably would fall on its face, but I think what they're doing is probably the smartest way to reboot something."
Okay, so Hart doesn't exactly sound thrilled about having her career-making series join the ranks of classic shows getting revived in the current TV-reboot era. But she's not against it, either. And that doesn't mean she's not down for a cameo or even directing an episode. "Never say never, but it would depend on the character they wrote," Hart says. "I just don't know where I would fit in. I would definitely take a look at the material if they sent it along." Netflix, give her a call!
The show was originally in development at The CW as a Riverdale spinoff before moving to Netflix with a two-season order. The Untitled Sabrina Project reimagines the origin and adventures of Sabrina the Teenage Witch as a dark coming-of-age story that traffics in horror, the occult and, of course, witchcraft, based on The Chilling Adventures of Sabrina comic book. Tonally in the vein of Rosemary's Baby and The Exorcist, this adaptation finds Sabrina wrestling to reconcile her dual nature — half-witch, half-mortal — while standing against the evil forces that threaten her, her family, and the daylight world humans inhabit.
Mad Men's Shipka was recently cast as Sabrina Spellman, an empowered young half-witch, half-woman who is beginning her dark education as a sorceress and trying to maintain a normal life as a sophomore at Baxter High. Intelligent, compassionate, and brave to the point of recklessness, Sabrina is all that stands between us and the forces of darkness that threaten our world. A few days ago, Jaz Sinclair was cast as Sabrina's BFF Rosalind Walker, a character invented for the TV series. She is brash, empowered, and outspoken, and the daughter of Greendale's minister. With all these strong female characters, this new series already sounds magical.