Melissa Benoist is engaged to her Supergirl co-star Chris Wood, and you have to see her giant ring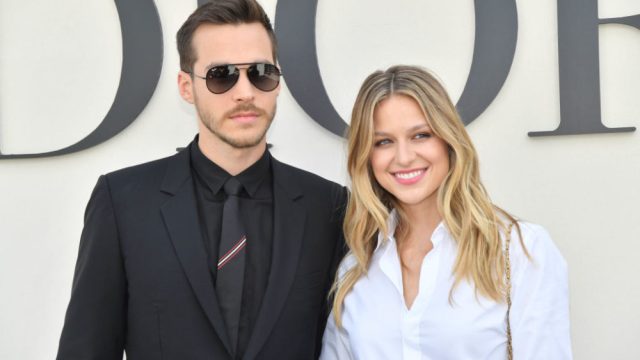 Valentine's Day is only a few days away, and it seems like almost everyone has romance on the brain. This time of year is peak proposal season, with many couples using the love-themed holiday to commit to a life together. And it turns out that not even superheroes—or the real-life actors who play them—are immune to V-Day's charms. Melissa Benoist, who stars on the CW's Supergirl, just said yes to co-star Chris Wood.
Yesterday, February 10th, Benoist shared the happy news on Instagram. The actress posted a photo of her beaming as Wood kissed her on the cheek. She captured her excitement by writing, "yes yes yes it will always be yes." But the real star of the pic is her giant rock. Benoist showed off her impressive diamond engagement ring for the camera, which, according to People, was designed by Jen Meyer. Wood shared the same picture to his own Instagram account, writing simply, "the happiest."
It's clear that Benoist and Wood share a bond not even kryptonite can weaken.
Wood later followed his initial post with a snapshot of the two attending a wedding together. The throwback pic featured them both grinning against a backdrop of yellow fall leaves. "Not from our wedding BUT IT WILL BE SOON," he wrote.
Benoist and Wood first met in 2016 when he was cast as Mon-El, Supergirl's love interest and later, one of her many fellow crime-fighters. E! News reports that rumors of their relationship began to spread in 2017 after they were spotted smooching on a beach in Mexico.
We know that Benoist and Wood have a super adventure ahead of them. Congratulations to the happy couple!