The press unknowingly paid Melania Trump over $100,000 to use pics of her, and ugh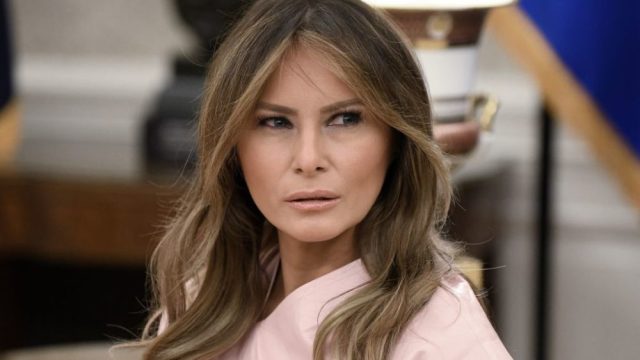 First Lady Melania Trump has received much backlash in recent weeks for wearing a jacket that said "I Really Don't Care, Do U?" en route to visit detained immigrants. And now, pictures of Melania are once again at the center of controversy, with a new report revealing that the first lady earned hundreds of thousands of dollars in royalties from certain photos of her.
A report by NBC News published today, July 2nd, revealed that Melania made anywhere from $100,000 to $1 million in 2017 because of a licensing agreement between the photo agency Getty Images and a photographer. According to NBC, at least 12 news organizations paid to use any of 187 photos taken by Belgian photographer Regine Mahaux, which resulted in the first lady receiving royalty payments. In a bizarre twist, Getty Images specified that these pictures, which were taken before Melania became first lady, could only be used for "positive news stories."
NBC, Fox News, Yahoo News, and the Daily Mailwere all among the organizations that used the photos. Spokespeople from several of these orgs told NBC that they were unaware that Melania was profiting from these pictures, and some organizations removed the pictures from their websites. Mahaux told NBC that "everything is legal" when the news outlet asked her about the deal with the Trump family.
As The Hill pointed out, some celebrities sign similar deals to earn royalties from photos of themselves. But it's rare for a political figure like Melania Trump to be paid under such circumstances.
This isn't the first time that a member of the Trump family has come under scrutiny for questionable income sources. The Washington Post reported in July 2017 that President Trump has been sued for violating the constitution's Emoluments Clause because his company accepted money from foreign governments.
We're glad that this bizarre financial situation has come to light, and we sincerely hope it will enable news organizations to make more informed choices about the images of Melania Trump they use going forward.