Twitter can't get over Melania Trump smiling with Barack Obama at Barbara Bush's funeral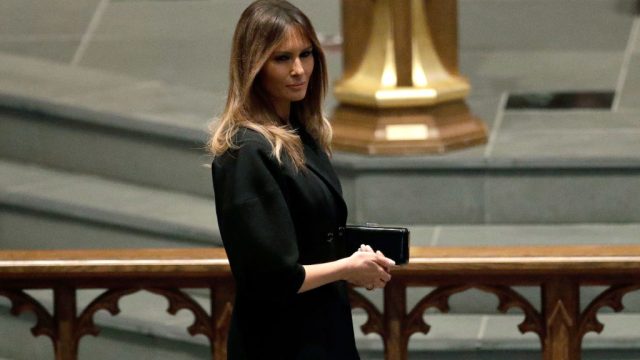 On April 17th, former First Lady Barbara Bush passed away at the age of 92. Barbara Bush served as the First Lady from 1989 to 1993, while her husband George H.W. Bush was President. The two were married for 73 years (!) — from 1945 up until the day she passed away. The Bushes shared a very sweet love story. Though their politics were controversial at times, ultimately, the former first lady left the world with grace, dignity, and the respect of many.
Some of the most recognizable faces in the world attended Barbara Bush's funeral. Donald Trump chose not to attend — a rare choice for a sitting President to not honor a former First Lady. Though, it has become common for Trump to ignore funerals, like those of the victims of the Florida school shooting. Trump cited wanting "to avoid disruptions due to added security," PEOPLE reports. Apparently, additional security is a disruption, though Bush lived most of her life surrounded by security and Secret Service.
Regardless, current First Lady Melania Trump attended without her husband. And she had the best seatmate of all: former President Barack Obama. In fact, it was pretty clear she was having a really great time. She was spotted smiling while talking with Obama, and the internet cannot get over it.
Have we ever seen Melania Trump smile so big?
false
This is meant with no disrespect to Barbara Bush. We're just saying, Barack's charm clearly works on Melania. And why shouldn't it? He is the complete opposite of her husband. Barack Obama is charming, kind, gracious, warm, and always very funny, even when he's telling dad jokes.
Twitter is having a field day with this picture of Melania Trump smiling.
People really want to make sure Donald Trump "doesn't see" the photo.
We are always a fan of when Cher weighs in on literally anything.
Zing!
Melania Trump is used to sitting next to Presidents by now, but this raises a good point.
(Also, hey Michelle! And hey Bill & Hill! Miss you.)
https://twitter.com/udfredirect/status/987727985477287938
And it should certainly be noted that Melania Trump was a staunch supporter of the racist "birther" movement.
She was among those that demanded President Obama show his birth certificate to the world. Though this photographed captured a cute moment, Melania Trump has done little to nothing to deserve such high class and elegance from Obama. However, this is just who he is as a person, a man, and a citizen of the United States. false
Melania smiled in yet another picture from Bush's funeral. The collection of living Presidents and First Ladies (sans Jimmy and Rosalynn Carter) is a touching image. (Even more so without the current POTUS.)
We're glad almost everyone could come together to celebrate Barbara Bush's life. May she rest in peace.