Trump reminded the world that Melania was in an Aflac commercial once, and you can watch it here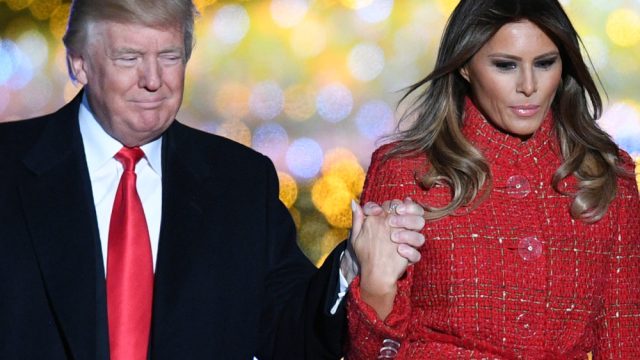 There's never a dull moment under the current presidential administration — we'll give it that. And yesterday, January 31st, Trump took the opportunity to boast about how his wife Melania once starred in an Aflac commercial. Because, of course.
Back in 2005, the now-president and First Lady were merely newlyweds, and she was still pursuing a career as a model and actress. And she apparently made her acting debut in a commercial for the insurance company, which her husband brought up during a meeting with an Aflac employee while promoting the federal Tax Cuts and Jobs Act he signed into law in December.
According to People.com, Trump met with Aflac resource manager Michael Porter in the Oval Office, and Porter gifted him with a pair of patterned socks printed with the Aflac duck. Trump then reminded Porter of Melania's commercial, calling it "big" and "successful"…because, obviously.
Check out the 2005 clip in all its Frankenstein-ish glory…and yes, Melania does star alongside the Aflac duck.
https://www.youtube.com/watch?v=0iRgBhfBFUM?feature=oembed
Trump reportedly told Porter, "Your chairman I know very well and he's done a fantastic job," referring to Aflac's chairman and chief executive officer, Dan Amos. He added, "He actually a long time ago hired my wife to do a big commercial, an Aflac commercial, and I think it was a successful commercial, too. So say hello to him."
At the time, Melania said in a statement, "I am very excited to make my acting debut in the latest Aflac commercial. Donald is known for saying 'You're fired'; maybe I will be known for saying 'Aflac.'"
Simpler times.