Meghan Markle Would "Still Be a Waitress if It Wasn't For Dad," Says Sister
The Markle father and half-siblings give tell-all interviews in new documentary.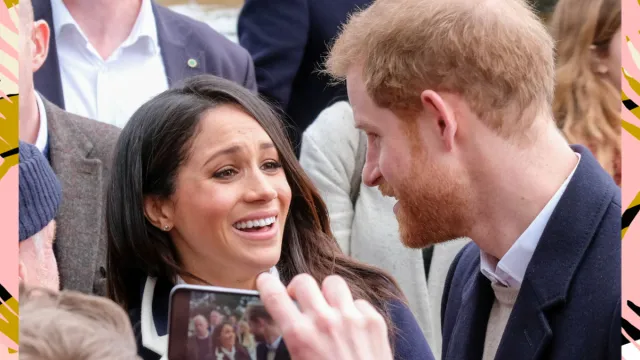 As royal fans finalize last minute details for their coronation watch parties, Meghan Markle's estranged relatives are gearing up for a momentous occasion of their own. On Friday morning, Australian news program Spotlight dropped a trailer for the Markle family's bombshell documentary about the actress-turned-duchess.
According to Spotlight, Meghan's "fractured US family" will "threaten to steal the show" with an explosive program of their own. The tell-all exclusive will feature interviews with Meghan's father, Thomas Sr., and her half-siblings, Samantha and Thomas Jr.
Spotlight is advertising the special as Thomas Sr.'s "first reunion" with Samantha and Thomas Jr. since Meghan "iced them out of her life" following her marriage to Prince Harry.
In a first-look for the show, which will premiere this Sunday, Samantha claims Meghan and Harry "are unhealthy for each other."
"It's a toxic relationship," she tells Spotlight host Michael Usher.
Elsewhere in the interview, Samantha speaks on Meghan's newfound popularity. From her point of view, Meghan has their father to thank for her celebrity status.
"She'd still be a waitress if it wasn't for dad," Samantha says of her half-sister.
RELATED: Meghan Markle Drama Kept Kate Middleton from a Final Goodbye with the Queen
Thomas Sr. will also take to the hot seat and share never-before-seen photographs of Meghan from childhood. The father of three is reportedly interested in mending their broken relationship.
In what is described as a "death-bed plea," Thomas Sr. pans to the camera and speaking directly to Meghan, begs, "How can I fix this?"
Despite the Sussexs' recluse from the Palace, Thomas Jr. promises that he and his family won't back down.
"We're not going to go away. This is going to change everything," he says in the trailer.
Among "treasured memories" such as home videos and photos, the Markle family will be divulging "home truths and secret tapes," per the clip.
Spotlight's Markle family documentary will air this Sunday, April 30, at 8:30pm Australia time. It's unclear when or if the show will be available to stream internationally.
Emily is a NYC-based freelance entertainment and lifestyle writer — though, she'll never pass up the opportunity to talk about women's health and sports (she thrives during the Olympics).
Read more