Meghan Markle Mixed These Two $16 Nail Polishes for Her Wedding Manicure
And no, she didn't use the famous shade everyone thought she did.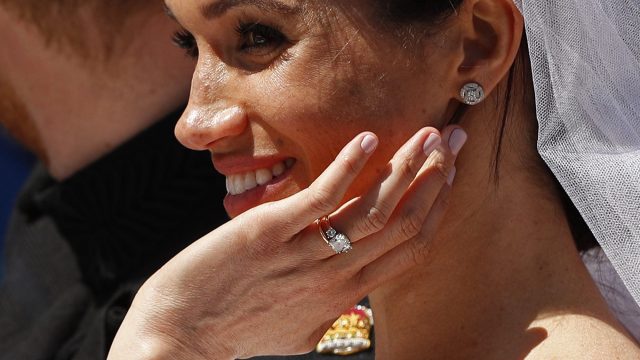 It's been two years since Meghan Markle married Prince Harry, and since then, we've all been following and stealing her beauty and fashion choices—which are often fairly affordable, especially for a literal royal. Until now, we didn't know what nail polish she wore for her wedding day manicure, but a new report breaks down the *two* polishes she mixed together for the look. Shade mixing on our mani? We have a new quarantine idea.
According to a report in British Vogue, Markle used two affordable CND brand nail polishes to get that royal-approved subtle manicure. (Yes, members of the royal family have to stick the guidelines of neutral light pinks, nudes, and clear on their nails when they're on royal business. And the most-talked-about wedding of the decade is part of that business.)
Markle used one layer of CND Shellac nail polish in Unmasked then two coats of Negligee.
DryBy, the London-based nail salon that gave the duchess her manicure, confirmed Vogue's report on Instagram.
First of all, gel polish for your wedding is probably the smartest choice. If the royals have guidelines on nail colors, they probably also don't want the chipped, grunge look. Second, of course, Markle gets a bespoke shade for her big day. But now you can recreate it at home because the polishes only clock in at around $16, depending on where you're shopping.
CND Shellac "Unmasked" is an opaque nude shade, and "Negligee" is a semi-sheer light pink. In addition to the Shellac, or gel polish, line, both shades also come in CND Vinylux, which is standard long-wear nail polish. You can shop "Negligee" in the Vinylyx on Amazon.com for only $10.50. "Unmasked" Vinylyx isn't available on Amazon, but you can grab the Shellac version on Walmart for $16—or snag a close dupe. CND's "Romantique" is another subtle, light nude shade, and so is "Naked Naivete."
In the two years since Meghan and Harry's wedding, beauty mavens suspected that the bride had worn a completely different affordable nail polish, which has now become an iconic, bestselling shade. So if you're looking to recreate Markle's look, it's clear you could also use that color, Essie's "Ballet Slippers," which is on Ulta for only $9. If you want to stick with Essie, "Vanity Fairest" and "Sugar Daddy" are good substitutes.
Now that we're woke to the idea of creating our own manicure colors, we'll be busy experimenting at home to let our unique lights shine, thank you.