Prince Harry's girlfriend Meghan Markle cooked the most delicious looking turkey ever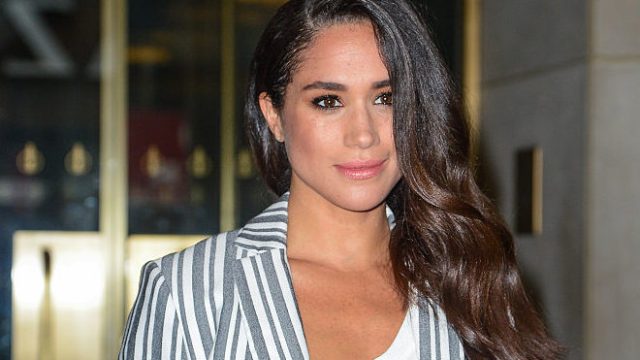 Thanksgiving may be over, but that doesn't mean we're done salivating over the incredible feasts celebs shared with their fans over social media. Next up in "Enviable T-Day Meals" is the snap shared by Meghan Markle, who cooked a delicious-looking turkey.
On Wednesday (aka Thanksgiving eve), Prince Harry's new girlfriend posted to Instagram a photo of herself bending over her cooked turkey. In the photo, the gorgeous Suits actress looked comfy and casual, rocking a pair of Ray-Bans, an all-denim outfit, and a cozy-looking vest, while smiling above her drool-worthy Thanksgiving main course.
https://www.instagram.com/p/BNKLewEgkW9
But Markle's proud turkey photo is actually a #TBT moment. In the caption, Markle explained that this was the "perfect" bird she'd cooked for Thanksgiving the year before and that she was nervous about living up to her mega impressive turkey-cooking from 2015.
Oh, that time I roasted a pretty perfect Thanksgiving turkey! The question is, can I do it again? ?The pressure is on! #thanksgiving#letthebriningbegin #turkey"
Honestly, we can't blame the actress for feeling the pressure – that is a pretty perfect-looking turkey, as she said. Based on another photo she shared the next day, during her actual Thanksgiving feast, it looks like the cooking went pretty well for her.
https://www.instagram.com/p/BNOCwYkA9bz
In the more recent pic, Markle caught a sweet family moment: her parents, passing side dishes around with their Thanksgiving feast looking picture-perfect beneath their hands. The accompanying caption was heartwarming and thankful, referring to her parents as "two gems":
"Giving thanks for so many things – including these two gems, who brought me into this world. Happy Thanksgiving from my family to yours."
Of course, it's totally possible that Markle's "feeling the pressure" joke might also refer to something else entirely. Markle has had a fairly rough past few months, since it came to light that she's dating Prince Harry. The significant others of internationally-known royals are, unfortunately, always scrutinized by fans and the media alike, but the fascination with Markle veered into bullying territory. Prince Harry even issued an official statement asking his fans to lay off of the sexist, racist comments about his new lady.
Luckily, Markle has remained upbeat about the whole debacle, giving thanks to her supportive fans on Twitter and Instagram. We're so glad that she was able to spend a lowkey Thanksgiving with her family. Markle seriously deserves the time out of the spotlight!